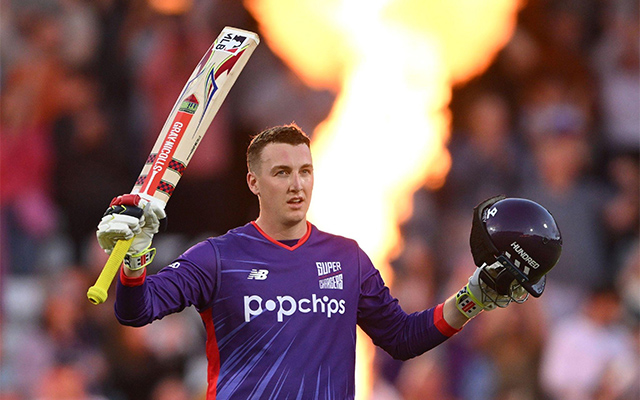 Texas Chargers seize the inaugural title at the US Masters T10 League 2023's intense finale. Meanwhile, Neeraj Chopra's historic gold at the World Athletics Championship unites the cricketing world in applause. Controversy brews over Fazalhaq Farooqi's last-over run-out, sparking discussions on ethics and sportsmanship spirit.
Virat Kohli surprises fans with a fresh look ahead of the Asia Cup. Amidst selfies and camaraderie, Kohli and Rohit Sharma engage with fans, while Rahmanullah Gurbaz's unforgettable knock and Fazalhaq Farooqi's last over run out take the spotlight in the Afghanistan vs Pakistan clash.
Here are the best pictures to roundoff an entertaining week in cricket:
1. The Hundred 2023: Harry Brook's historic Headingley ton in vain as Welsh Fire dare to dream
Harry Brooks' amazing century in Headingley went in vain as Welsh Fire secured a victory in the end. Brooks' remarkable innings was not enough to secure the win for his team, as Welsh Fire successfully chased the target, keeping their hopes alive in the tournament.
2. Virat Kohli crushes Yo-Yo Test, raises level to 17.2
Virat Kohli elevated his fitness game, passing the Yo-Yo test with a score of 17.2. The Indian cricket's former captain's exceptional performance in the test showcases his commitment to peak physical condition. Kohli's impressive score underscores his dedication to maintaining high fitness standards.
3. MS Dhoni oozes calm as he celebrates successful landing of Chandrayaan-3
MS Dhoni celebrated Chandrayaan-3's successful landing, showcasing his interest beyond cricket. Dhoni's picture reflected his pride in India's scientific achievements, resonating with fans.
4. Virat Kohli, Rohit Sharma pose for selfies with fans ahead Asia Cup 2023
Ahead of the Asia Cup 2023, cricket stars Virat Kohli and Rohit Sharma delighted fans by posing for selfies. The star duo's interaction with supporters adds to the pre-tournament excitement, emphasising their connection with the cricket fans. 
5. Afghanistan vs Pakistan 2023: Rahmanullah Gurbaz's unforgettable knock
In the match between Afghanistan and Pakistan in 2023, Rahmanullah Gurbaz's unforgettable knock took centre stage. His exceptional performance resonated throughout the match, leaving a significant impact. Gurbaz's remarkable innings become a highlight, showcasing his prowess and determination.
6. Shadab's run-out at the non-striker end, AFG vs PAK
Controversy erupted following Fazalhaq Farooqi's last-over run-out of Shadab Khan at the non-striker's end. The controversial dismissal raised debate about sportsmanship and the spirit of the game. Farooqi's actions fueled discussions on the line between competitive and fair play.
7. US Masters T10 League 2023: Texas Chargers bag inaugural title in dramatic finale
In a gripping final, Texas Chargers clinch the inaugural title of the US Masters T10 League 2023. The team's victory in the intense match adds to the league's excitement and sets the tone for future seasons. The dramatic conclusion keeps fans on the edge of their seats and highlights the growing popularity of T10 cricket in the United States.
8. Virat Kohli sports new look ahead of Asia Cup 2023
Virat Kohli got a new look as the Asia Cup approaches, sparking intrigue among fans. The Indian cricket star's new appearance gained attention, adding an element of anticipation to the upcoming tournament. 
9. 'Gold for our diamond' – Cricketers hail Neeraj Chopra for bagging historic gold at World Athletics Championship
The cricket fraternity lauded Neeraj Chopra for securing a historic gold medal at the World Athletics Championship. Indian cricketers also celebrated Chopra's remarkable achievement, applauding his dedication and exceptional performance.
10. Emotional fan touches MS Dhoni's feet
A heartwarming moment unfolded as an emotional fan touched MS Dhoni's feet, captured in a video making waves across social media. The gesture reflects the deep admiration and reverence fans hold for the cricket icon.
11. Smriti Mandhana wins The Hundred 2023 with Southern Brave
Smriti Mandhana had an average tournament, scoring 238 runs at an average of 29.75 with a strike rate of 133.70. The left-handed batter failed to come to the party in the final, scoring just four runs, but Danni Wyatt's 59 helped Brave to bring home the title. 
Doonited Affiliated: Syndicate News Hunt