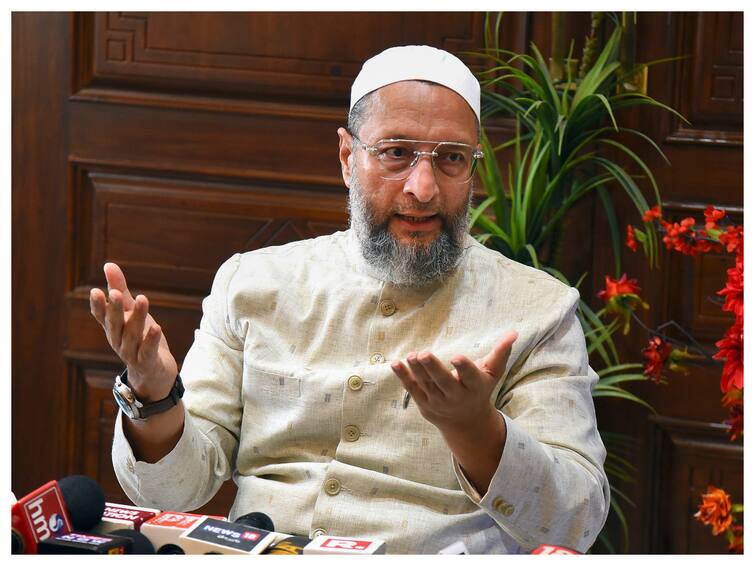 New Delhi: Responding to a viral video showing a teacher purportedly instigating her students to beat their fellow classmate in Uttar Pradesh's Muzaffarnagar, AIMIM chief Asaduddin Owaisi said it is a "product of the BJP rule" over the last nine years. He further said the incident reminded him of the persecution of Jews under Adolf Hitler.
Taking to X, formerly Twitter, Owaisi wrote, "Indian Muslims are facing the same persecution and discrimination as Jews faced in 1930s."
Indian Muslims are facing the same persecution & discrimination as Jews faced in 1930s ,will it lead to Kristallnacht? Hope not https://t.co/XG7Zt3pEtf


— Asaduddin Owaisi (@asadowaisi) August 26, 2023
Speaking to ABP News, the AIMIM leader said UP's incident was similar to an incident in a classroom in Nazi Germany where two Jewish students were made to write on the blackboard: "The Jew is our biggest enemy. Beware of the Jew."
WATCH | मुजफ्फरनगर केस को लेकर AIMIM अध्यक्ष असदुद्दीन ओवैसी @asadowaisi से abp न्यूज़ की EXCLUSIVE बातचीत

देखिए 'सीधा सवाल', संदीप चौधरी के साथhttps://t.co/smwhXUROiK#SeedhaSawaal #SandeepChaudhary #UP #Muzzafarnagar #SchoolTeacher #FIR #BJP #Congress #SP #Police #AIMIM… pic.twitter.com/l4vlKzgpSX


— ABP News (@ABPNews) August 26, 2023
Further reacting to the UP teacher's defence that as she was handicapped, she got the child beaten up by his fellow classmates, Owaisi said everyone knows that a handicapped person is more sympathetic towards other people.
According to a report by news agency ANI, the teacher, identified as Tripti Tyagi, claimed that the video was edited.
"The video that was made viral was edited and cut, I had no such intentions…in our place, Hindus and Muslims stay with unity and we have more Muslim students in our school," the teacher told the news agency.
"There was pressure from the parents of the child to be strict with him. I am handicapped I can't get up…he was not doing homework for last 2 months…so I made 2-3 students beat him up so that he would start doing his work," she told ANI.
Owaisi further said this incident shows a subtle message is being "drilled" into the minds of children that a "Muslim could be humiliated" and there would be "no repercussions".
The video from Muzaffarnagar where a teacher is asking her students to slap a Muslim boy is a product of the last 9 years. The message being drilled into the minds of little children is that one can beat up & humiliate a Muslim without any repercussions.

The father of the…


— Asaduddin Owaisi (@asadowaisi) August 26, 2023
"The father of the child has withdrawn his kid from school and given in writing that he doesn't want to pursue the matter because he knows he won't get justice and instead it might vitiate the atmosphere. Who are these people who will vitiate the atmosphere over a father seeking justice for his kid? It is an indictment of Yogi Adityanath's rule that people have no faith in due process," Owaisi tweeted.
Further taking a jibe at the UP government, he wrote, "It is more likely that the teacher will get some government award rather than being punished."
Doonited Affiliated: Syndicate News Hunt