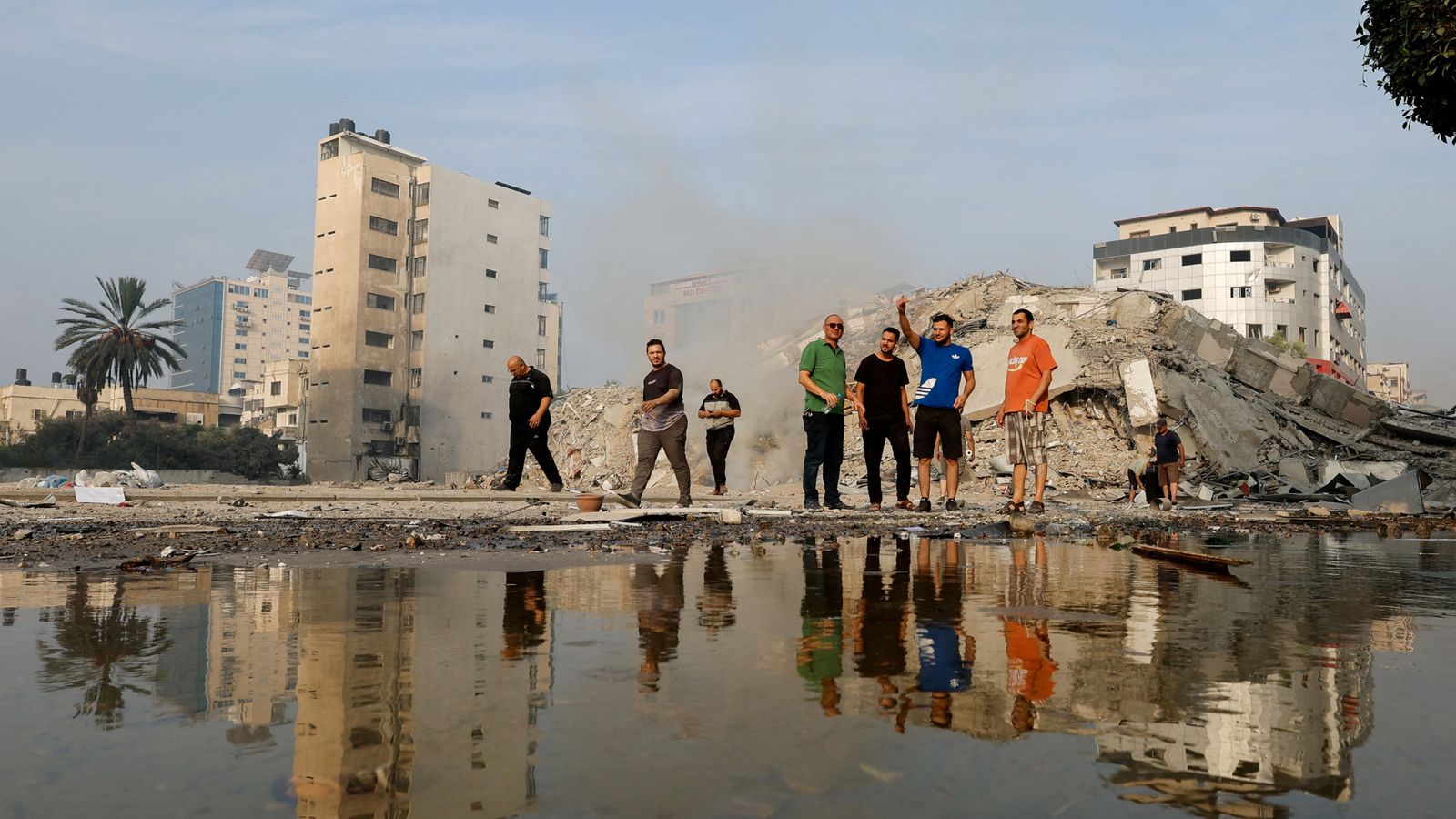 There are two parallel anxieties right now in terms of how all this unfolds.
The first is Gaza. We know what war looks like inside overcrowded Gaza because we have seen it too many times. But this is of a whole different magnitude.
The psychological shock that has penetrated deep into the Israeli psyche from the weekend's Hamas massacres will compel the Israeli government to unleash a shock and awe retaliation on Gaza that will be truly terrifying for Gazans.
After so many civilian casualties in Israel, the civilian casualties from Netanyahu's "we'll turn Hamas to rubble" operation will test Israel's allies.
Their shoulder-to-shoulder support has reflected the unprecedented brutality of the multiple Hamas terror attacks. But as civilian casualties mount, the unequivocal support for Israel's tactics will become more nuanced.
Israel-Hamas War – watch special programme on Sky News tonight at 9pm
Will Israel differentiate between Hamas and civilians? Can it? How will civilians avoid the violence? The humanitarian challenges in Gaza will be huge.
Israeli Prime Minister Netanyahu thought he could "manage" Gaza and Hamas indefinitely. He was wrong. Hopelessness on the streets and extremist Palestinian politics collided.
That brings us to the second wider anxiety – Iran, which leverages Palestinian hopelessness, bolstering Hamas.
And Iran is how the conflict spirals. Israel is convinced Hamas's unprecedented attack is not just inspired by Iran but funded by Iran and equipped by Iran.
Note what Israel's Ambassador to the UN said in New York this weekend: "The Iranian President, the butcher of Tehran, Raisi met with the leadership of Hamas and we know that there were meetings in Syria, in Lebanon…," Gilad Erdan said.
"So obviously, it's easy to understand that they tried to coordinate the military, the terror armies, the terrorists, the proxies of Iran in our region…"
He is joining the dots. And if Israel finds a smoking gun, global anxiety increases.
Israel has acted alone against Iran many times. It is credited by allies for keeping Iran's nuclear weapon ambitions in check with isolated clandestine operations over the years.
How Hamas attack unfolded – and Israel's response

Is direct conflict with Iran a possibility? A senior Israeli diplomatic source was asked this on Sunday.
"No," they said. "Iran's strategy is that of proxy war and to deny a direct connection to Hamas's efforts. They work through proxies and that's why they are the number one state sponsor of terror. So for now we are not concerned about a direct conflict with Iran."
Encouraging. But then those proxies – Hamas, and Hezbollah in Lebanon – were busy on Sunday night, telling the Wall Street Journal that Iran was behind it all.
The Americans are more reserved.
Hamas attack prompts retaliation

"On Iran's involvement, I mean, look… it's too early to say whether the state of Iran was directly involved or planning and supporting," a senior administration official said on Saturday night. "I'm not going to get ahead of that. We are going to be looking at that very closely."
The official added: "That said, there's no doubt, Hamas is funded, equipped, armed by Iran and others."
Read more:
Haunting messages left by Israelis taken hostage
What is Hamas – and why has it chosen now to strike?
Some escaped on foot, but many were killed or taken hostage – city in shock
The United States aircraft carrier, USS Gerald Ford, and its Strike Group of ships will be off the coast of Israel in the next couple of days.
The days ahead are impossible to map, but the prospect of this conflict being "contained to Gaza", as US officials hope, seems improbable.
Doonited Affiliated: Syndicate News Hunt