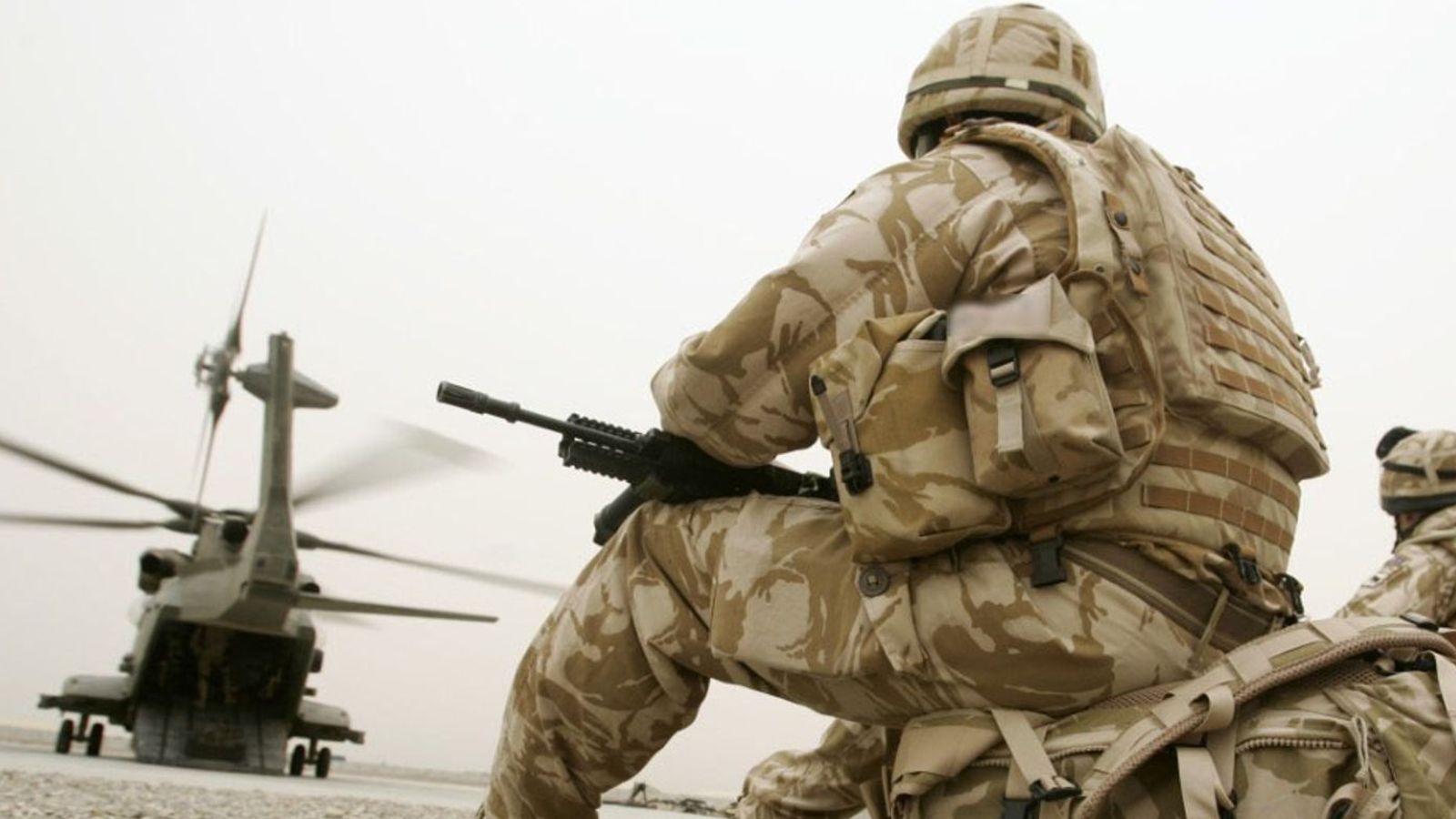 Concerns were ignored by a senior officer in the Special Forces that there was a "deliberate policy" in Helmand, Afghanistan, to kill all fighting-aged males, irrespective of whether they posed a threat or not, an inquiry has heard.
One officer wrote out what he had been told and locked it in a safe for his successor to deal with because he was concerned his commander was ignoring the issue.
The Independent Inquiry into Afghanistan opened on Monday into killings by a unit referred to as "sub-unit one" on at least seven occasions, between November 2010 and October 2012.
Concerns were raised at a social function in late March 2011, when the commanding officer of a Special Forces unit referred to as UKAF3, referred to as N1785, spoke to the Assistant Chief of Staff Operations to the Commander of UK Special Forces, referred to as N1466.
N1785 raised his concerns about whether it was possible that a "deliberate policy was being demonstrated where all fighting-age males in a given scenario were killed irrespective of whether they posed a threat or not".
He had been given information from another officer called N1799 who provided a written statement on 24 March.
In it, the officer explained: "During conversations with a soldier from SU1 [sub-unit 1], he stated that it was standard procedure to deploy regularly to hit low and medium value targets in the Helmand area.
"During these operations, it was said that 'all fighting-age males are killed on target' regardless of the threat they posed, this included those not holding weapons.
"It was also indicated that fighting-age males were being executed on target inside compounds, using a variety of methods after they had been restrained.
"In one case it was mentioned a pillow was put over the head of an individual being killed with a pistol."
'Any means possible'
The officer added: "It was implied that photos would be taken of the deceased alongside weapons that the fighting-age males may not have had in their position when they were killed.
"The conversation implied that the intention of regular operations was to pacify areas in Helmand by destroying all the medium and low-level Taliban command chain and facilitators, using any means possible."
On 5 April 2011, N1785 decided to write to N1802, the commander of UK Special Forces headquarters in London, to inform him of the information and apologising for not raising it during his "leaving call".
"I have for some time been aware of rumours within the UKAF3 that UKAF1 SU's [sub-units] have been conducting summary executions of supposed Taliban affiliates on target in AFG [Afghanistan].
"Until very recently I have not reported this any further and cautioned my team against peddling malicious speculation. However, I have now been given more information of a nature which makes me seriously concerned for the reputation of UKAF [UK Special Forces].
"One of my team, an officer, has been told by an individual from UKAF1 that there is in effect an unofficial policy amongst the UKAF1 SU's to kill wherever possible fighting aged males on target, regardless of the immediate threat they pose to our troops.
"In some instances this has involved the deliberate killing of individuals after they have been restrained by SU1 and the subsequent fabrication of evidence to suggest lawful killing in self-defence.
"What I have been told does not amount to anything as substantial as evidence. But to my sense it is more than just what had been, until recently, vacuous rumour.
"But if UKAF individuals are conducting EJK's then the implications are stark. Notwithstanding this, I feel most strongly that thorough investigation is warranted."
Read more:
At least 2,445 dead after Afghanistan earthquakes
Taliban bans women visiting popular park
Public inquiry to be held partly in secret
N1785 later told the Royal Military Police how N1802, the headquarters commander, was "unhappy about the nature of the information" he had been given and that, as a result, he placed the letter from N1799 into the safe in his office and briefed his successor.
N1466, the Assistant Chief of Staff Operations to the Commander of UK Special Forces, later told military police investigators that some of the accounts provided by members of sub-unit 1 were "implausible" and "in hindsight I should have made it clear to N1802 that the issue should be taken to the Service Police".
He told the military police investigation, Operation Northmoor, that: "The Taliban seemed to have ceased, in general, fighting against helicopter assaults from the compounds.
"Their reasoning seemed to be that most suspects were released from custody after 96 hours of detention, under these circumstances, surrender was a better outcome than fighting against overwhelming odds."
He added that there was a "scarcity of weapons in many of the scenes and position of the weapons, by this I mean where a weapon is laid down parallel to the body".
The officer said: "Given the layers of implausibilities above, the aggregate coincident of such events on multiple targets seemed especially surprising and logic defying."
The inquiry continues.
Doonited Affiliated: Syndicate News Hunt