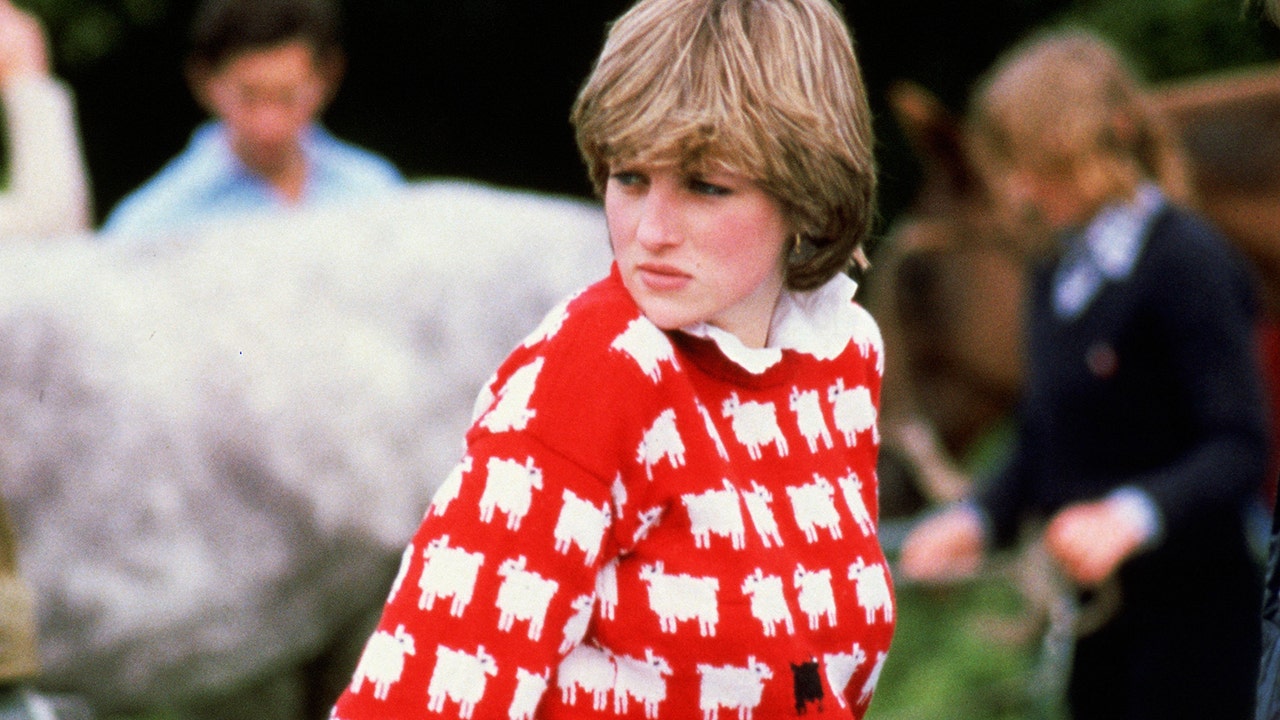 Princess Diana's famous "black sheep" sweater is one of several items currently up for auction at Sotheby's in New York for their inaugural Fashion Icons sale. 
Diana wore the red sweater with a pattern of white sheep and one black sheep to a polo match in 1981 while she was engaged to then-Prince Charles. 
"The sweater's been tucked away in an attic for more than 40 years," Frank Everett, Sotheby's senior VP and sales director for jewelry, told "Today" on Wednesday. "We love a discovery story in the auction world." 
The sweater was rediscovered earlier this year in the attic of English knitwear shop Warm & Wonderful after the sweater, which had been torn by Diana on the sleeve, was put away in a box decades ago and a replacement was knitted for the royal. 
PRINCESS DIANA'S BROTHER SHARES ADORABLE CHILDHOOD PHOTO 26 YEARS AFTER HER DEATH 
"Apparently when the letter came from the palace requesting a new one, they said either a repair or a replacement," Everett said. "They decided to knit her a new one and there are some design differences in the second one she wore and someone just threw it [the first sweater] in a box and it went in the attic. Forty years later, now here it is at Sotheby's." 
Diana wore the replacement sweater in 1983. 
Everett told "Today" that the estimate for the sweater at the auction, which opened on Thursday, was $50,000 to $80,000 and it was already at $70,000 by Wednesday.
He said it would not sell until bidding closes on Sept. 14. 
Headlines of Diana in the sweater catapulted demand for it, which Warm & Wonderful still sells in cotton for $250. 
Actress Emma Corrin, who played a young Diana in "The Crown," also wore a replica of the sweater in season 4 of the Netflix series.
CLICK HERE TO READ MORE ON FOX BUSINESS
The buyer also gets the original letter from Diana's personal secretary requesting the repair and a thank-you note after she received the replacement. 
Another of Diana's outfits, a Murray Arbeid evening dress she wore to Prince Edward's 21st birthday in 1985 and to another event in December of that year, is also up for auction. 
PRINCESS DIANA'S WEDDING DRESS DESIGNER RECALLS 'HEART-STOPPING' MOMENT DURING THE CEREMONY: 'HORRIFIED' 
Also included in the Fashion Icons auction is the vintage taxidermied bird of paradise headpiece worn by Sarah Jessica Parker in the "Sex and the City" movie, a 1950s Normal Norell black lace dress worn by Michelle Obama, a circa 1910s lace wedding veil worn by Madonna in Vogue this year, Kate Winslet's custom-made Alexander McQueen gown worn to the 1998 Oscars and a collection of Lauren Bacall's Hermès bags. 
GET FOX BUSINESS ON THE GO BY CLICKING HERE
"These striking garments and accessories belonging to and worn by some of the most celebrated individuals across the worlds of fashion, film, music and politics each possess a unique narrative in the wide-spanning history of fashion," Cynthia Houlton, Sotheby's global head of fashion and accessories, told People magazine of the collection. "Sotheby's is immensely privileged to showcase these treasures to the world, catering to the passions and enthusiasm of fashion aficionados and collectors alike."
The Associated Press and Fox News' Stephanie Nolasco contributed to this report. 
Doonited Affiliated: Syndicate News Hunt