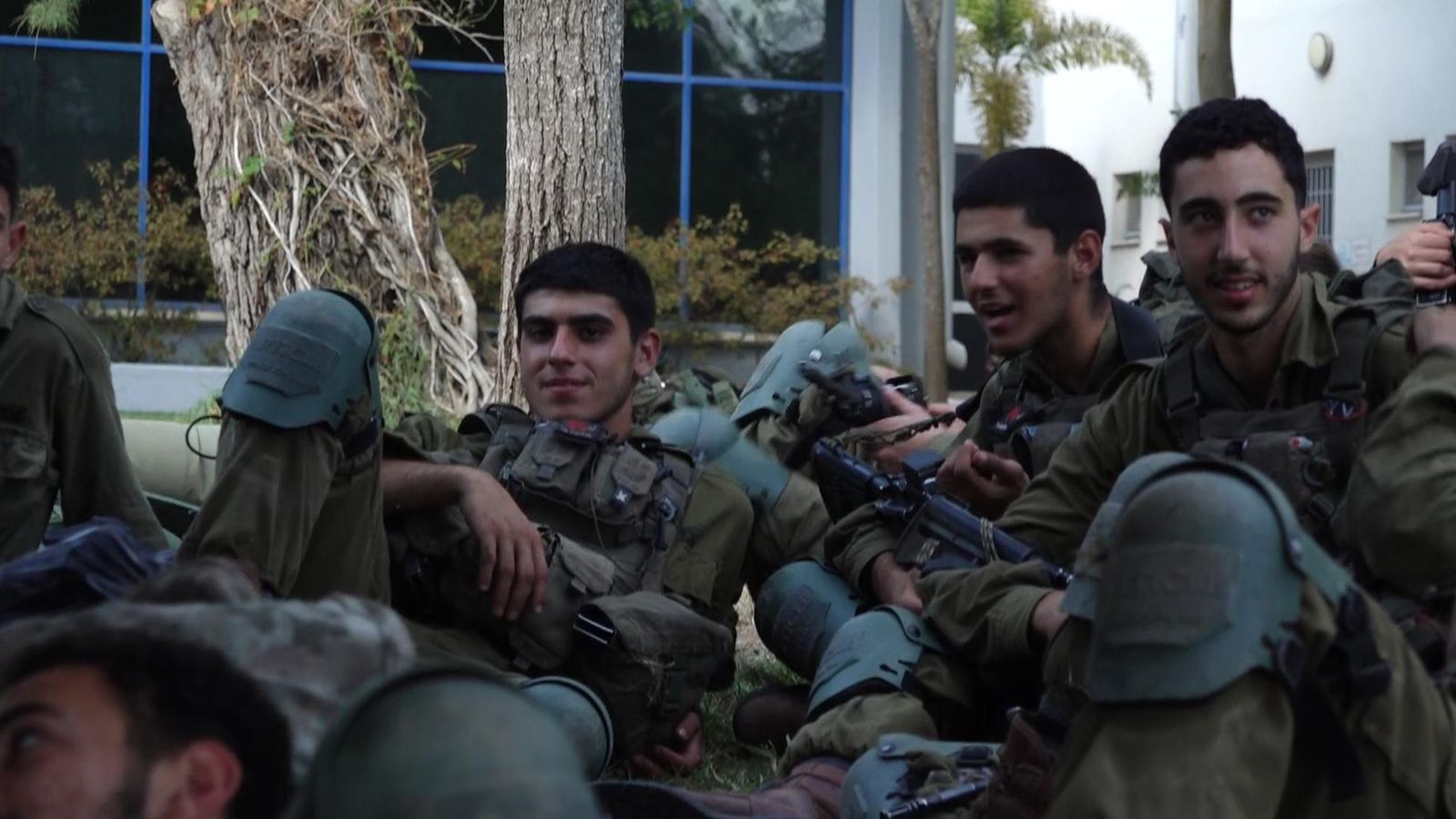 Israeli soldiers readied their tanks in a dusty patch of countryside close to Gaza.
Under a large tree, more troops gathered, armed and ready for combat.
The mood seemed relaxed – a calm perhaps before any potential order to push forward.
Follow live: Gazans told 'go south if you want to live'
These servicemen know such a move would come at huge personal risk – urban warfare on the streets of Gaza against Hamas militants who will have been preparing as well.
Yet, one soldier, signalled that fury at the brutality of last week's terror attack by Hamas against families across this rural stretch of southern Israel helped to strengthen his nerve.
"We are very motivated," he said, a rifle hanging over his shoulder.
Click to subscribe to the Sky News Daily wherever you get your podcasts
Israel has mobilised hundreds of thousands of reservists ahead of an anticipated large-scale ground offensive in the Gaza Strip.
Evidence of the troop build-up is clear when driving along roads that run parallel to the territory.
Artillery pieces positioned in one field were already firing rounds into Gaza as part of the initial phase of the war, alongside thousands of punishing airstrikes.
Israel said on Friday its troops had also launched ground raids, the first such incursion since the crisis erupted and a precursor perhaps to what might come.
Read more:
High security in Jerusalem after calls for 'day of rage'
Hamas attack may have been planned for a year
This is a nation reeling from one of the worst attacks in its 75-year history.
Hamas fighters killed more than 1,300 people, the vast majority of them civilians, including children, in their merciless rampage, exactly one week ago.
Twisted hulks of burnt-out cars frame the entrance to one devastated kibbutz – the scene of a ferocious battle when Israeli troops fought to retake the compound last weekend. But not before Hamas fighters had killed around one in 10 of some 1,000 residents.
They also took a number of people from the Be'eri community hostage, including an Israeli-German woman called Yarden Gat, 35.
Her sister-in-law, Carmel, and mother-in-law, Kinneret, are also missing.
Dramatic details about what happened to the family emerged on Friday.
Yarden's brother, Gili Roman, said she was seized from the house of her parents-in-law along with her husband, Alon, and their three-year-old daughter Gefen.
They were bundled into a vehicle but in the chaos, the terrified family managed to break free while they were still being driven towards Gaza.
Yarden was holding her daughter as she and her husband ran for their lives, Gili said.
Realising that Alon would be able to run faster than her, she handed the child to her husband. Alon and Gefen then escaped but Yolan has not been seen since.
Gili said he believes she is being held in Gaza.
"We are completely determined to bring her back. I know that she is strong and I know that she understands that we will do anything," he said.
Gili said he would like his sister to know "that her daughter is alive – that her efforts to risk her own life to save her daughter succeeded".
Carmel is also thought to have been kidnapped. There is no confirmation about the fate of Kinneret.
Or Gat, Carmel's brother, said he too is also doing everything he can to help find his sister, mother and Yolan.
Breaking down in tears, he said he just wants them to come home.
Doonited Affiliated: Syndicate News Hunt