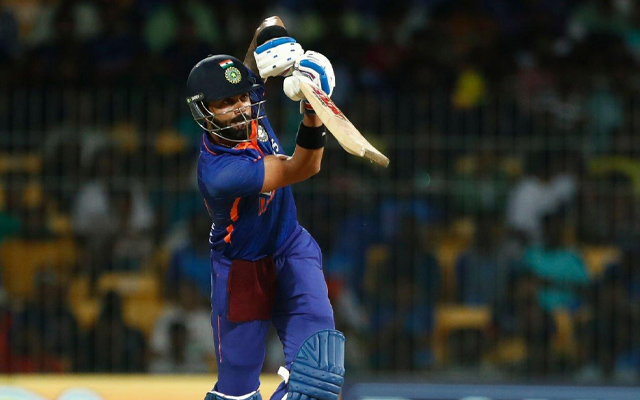 Virat Kohli's ability to "put the innings together" makes him a "perfect fit" for India's No. 4 in ODIs as per AB de Villiers. De Villiers admitted that Kohli "loves his No. 3 position" but highlighted the need to be a team man with a World Cup approaching. 
India's No. 4 ODI conundrum has been a long-standing one, with the team experimenting on that spot in the 2019 World Cup too. India have played no less than 11 players at No. 4 in ODIs since the previous World Cup, where their run was cut short after an agonising defeat to New Zealand in the semi-finals.
Come 2023, the position still remains a burning talking point, not least because of KL Rahul (thigh) and Shreyas Iyer's (back) injuries in the lead-up to the quadrennial event at home, starting on October 5. In a significant boost to India, however, both the batters have recovered and have been named in India's squad for the Asia Cup, the World Cup precursor starting from August 30.
"We're still talking about who will be the No. 4 batter for India. I've heard some rumours about Virat possibly taking up that position. I would be a big supporter of that," de Villiers, who has spent considerable time with Kohli at the Royal Challengers Bangalore, said on his YouTube channel 'AB de Villiers 360.
"I think Virat is perfect for No. 4. He can put the innings together, play any kind of role in that middle order. I don't know if he would like to do that. We know he loves his No. 3 position; he's scored all his runs there, but at the end of the day, if the team needs you to do something, play a certain role, you have got to put your hand up and got for it," he added.
India skipper Rohit Sharma has also expressed in no uncertain terms that the Indian team management is looking for flexibility in the batting order, with the batters being expected to be ready to pick roles as per the team's needs and not be bound by any specific template.
"No one should say, 'I'm good at this position or I'm good at that position'. You want guys to be able to bat anywhere, that's the message conveyed to every individual. Not now, but over the last three-four years," Rohit had told press at the time of India's Asia Cup squad announcement.
While Kohli's record at No. 4 – 1767 runs at an average of 55.21 and strike rate of 90.66, including seven centuries – inspires confidence aplenty, Iyer having successfully recovered means he will likely slot back into the role. Iyer's corresponding numbers are 805 at 47.35 in 20 innings, with two centuries. Meanwhile, all three of Kohli, Iyer and Rahul are at India's Asia Cup training camp in Alur.
Doonited Affiliated: Syndicate News Hunt