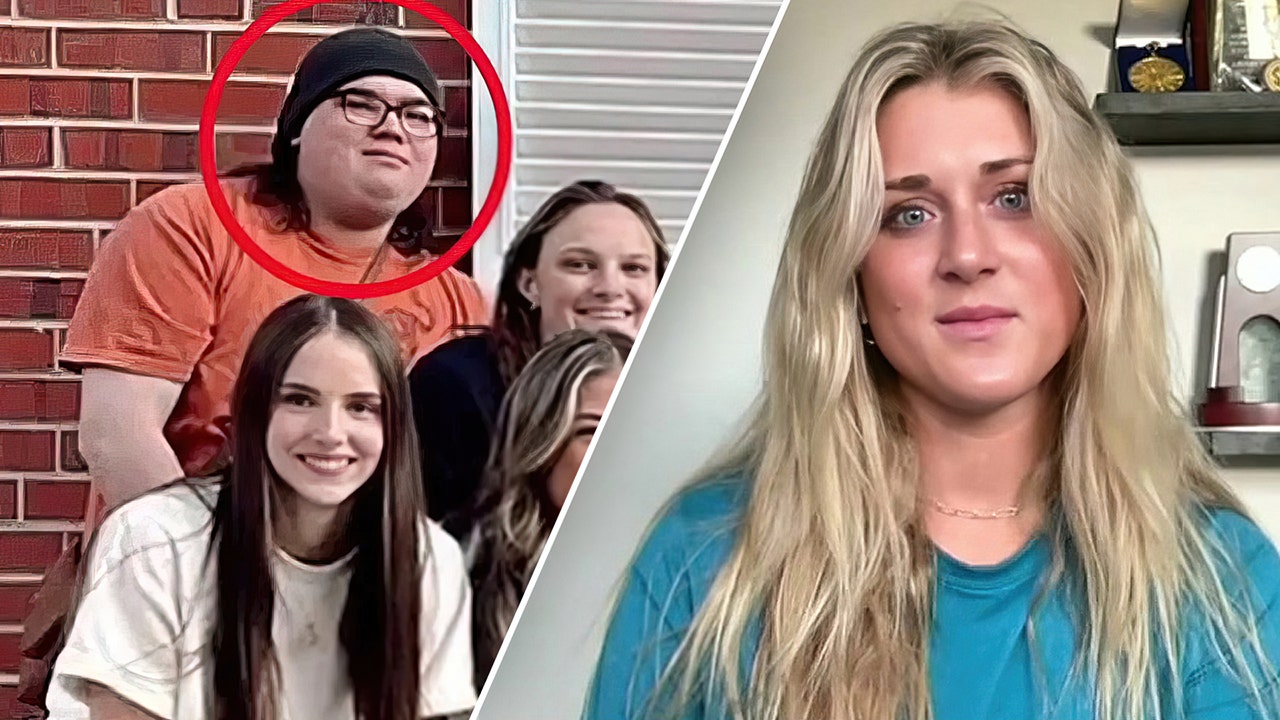 After a legal loss in the fight to protect women's rights, activist and former University of Kentucky All-American swimmer Riley Gaines warned the alleged "perpetrator" is putting the sorority sisters "in harm's way."
"I'm very close with several of these girls on this case, I just was with one in Omaha this past weekend. And what they're going through, what this man, Artemis, what he does to them, what he says to them, again, I won't list too much because of the litigation process, I wish I could, but you would be disturbed," Gaines said on "Mornings with Maria" Thursday.
Allison Coghan, joined by six other current and former members of the University of Wyoming's Kappa Kappa Gamma sorority, sued the national organization in March over the inclusion of a trans woman, 21-year-old Artemis Langford, into the sorority last year.
The sorority members alleged in the suit that Langford had "been voyeuristically peeping on them while they were in intimate situations, and, in at least one occasion, had a visible erection while doing so."
EX-TRANSGENDER INFLUENCER OLI LONDON WARNS U.S. NEEDS TO 'WAKE UP' TO THIS CHILD DANGER: 'IT'S NOT RIGHT'
Last Friday, the judge ruled that the school did not violate any policies by allowing the student to join and dismissed the case, upholding Langford's membership in the sorority.
"To not be able to define the word woman, we've seen this time and time again. We have a sitting Supreme Court justice who won't even do such because guess what? She claims she's not a biologist," Gaines pointed out. "Okay, well, I'm not a veterinarian, but I know what a dog is. That's the silliest reason to not be able to define a woman."
Gaines also expressed that the plaintiffs had been experiencing "problems" with the judge throughout the case's deliberations.
"These girls, they wanted to remain anonymous, initially, when listing as plaintiffs or witnesses," the NCAA All-American swimmer said. "And he did not grant them that. He told them: you have to put your name to this and just know it's going to follow you. He wanted to scare them."
The University of Wyoming told Fox News Digital they "don't have any comment" regarding the case at this time, but said the University of Wyoming Police Department has had contact with the sorority and is working to protect the safety of everyone involved in the conflict.
After allegedly being exposed to indecency and male genitalia in her own locker room during the 2022 NCAA Swim Championships, Gaines said many biological women are afraid to take a similar, outspoken stance as hers.
"People are terrified. And really, make no mistake, it's not just the female athletes who are scared," Gaines said. "It's the parents who are unwilling to defend their daughters because they're so scared. They work in corporate America. They don't want to lose their job. It's the coaches who are terrified of a lawsuit or any kind of repercussion from the university."
"They told us that we would be equivalent to a murderer if we spoke out and any harm were to come towards [Lia] Thomas' way, indicating if he were to harm himself, we would be solely responsible," she continued. "Therefore, we would be murderers if we advocated for privacy or equal opportunities in our sports."
GET FOX BUSINESS ON THE GO BY CLICKING HERE
To "best" protect women's rights and sports, Gaines encouraged a boycott of events and brands that don't uphold those values.
"We have to handle this. We can't wait for elected officials to do it because too many girls will be injured. Too many girls will lose out on opportunities. Too many girls will be exploited in a locker room if we do that," she said. "So I most certainly think boycott and refusing to participate, refusing to adhere is the correct means of how to handle this."
Fox News' Yael Halon contributed to this report.
Doonited Affiliated: Syndicate News Hunt