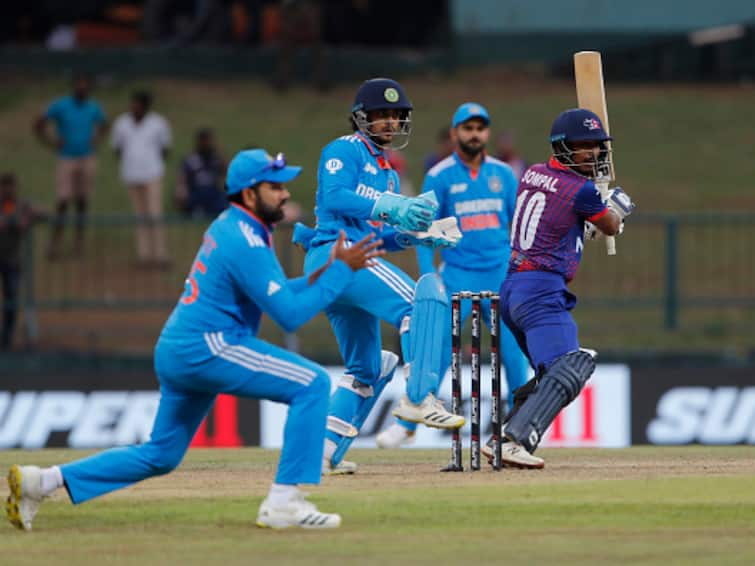 Rohit Sharma-captained Indian cricket team qualified for Super 4 stage of 2023 Asia Cup with win over debutant Nepal in rain-affected Group A match on September 4 (Monday). Chasing 231-run total for the win, openers Rohit Sharma and Shubman Gill remained unbeaten till the end as the Men in Blue attained an emphatic 10-wicket (DLS) win. However, the team is facing heavy criticism for sloppy fielding in IND vs NEP Asia Cup 2023 fixture. After India invited Nepal to bat first after winning the toss, Indian fielders dropped three chances before getting things under control.
Former India coach Ravi Shastri is unhappy with team India's 'body language' at the start of IND vs NEP Asia Cup 2023 match.
"The approach, at the very beginning, those catches going down. The body language seemed flat. It took those three catches to wake them up. By that time their openers were going well, Jadeja came and stemmed the rot," Ravi Shastri said on Star Sports.
"Put in to bat which had a little bit of moisture and had something for the fast bowlers, I think Nepal did an outstanding job. They will take that score."
Shastri praised Nepal's batting against India.
"They went after the bowling. They hot those sixes. Immediately 50 was on the board and the confidence was rubbed off on the middle-order and the lower order. This showed in the last five overs that showed there. It's great. From Nepal's point of view, just think if the crowd that came here. First time the Indian crowd has been outnumbered," Shastri added.
India overcomes rain interruptions, sloppy fielding to attain a convincing win over Nepal, qualify for Super 4 stage
India won the toss and asked Nepal to bat first. The Men in Blue bowled out Asia Cup debutants for 230 runs but due to rain interruption that lasted for almost two hours, the target was revised to 145 in 23 overs. In reply, Captain Rohit Sharma made 74 not out and his opening partner Shubman Gill notched up an unbeaten 67 to reach 147-0 in 20.1 overs, qualify for Super 4. 
Doonited Affiliated: Syndicate News Hunt