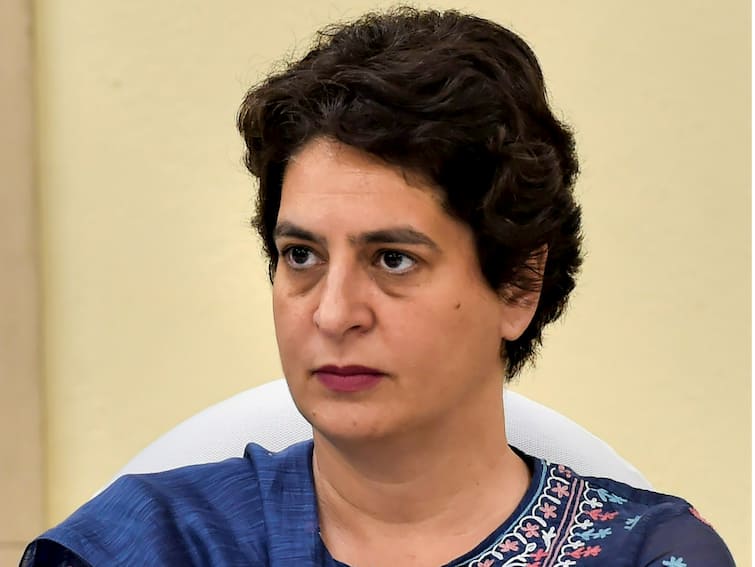 Congress leader Priyanka Gandhi Vadra on Tuesday stated that the current crisis in Himachal Pradesh caused by severe monsoon rains be designated a "national disaster," urging the Centre to rise beyond "party politics," news agency PTI reported. Gandhi, who toured rain-affected regions in Kullu and Mandi districts and assessed relief and restoration efforts, asked the Centre to rise above "party politics" without regard for whether the state is governed by the Congress or the BJP, according to an issued statement.
Priyanka Gandhi stated during her interactions with the people that she visited the state because she felt it was her obligation to share the pains of her people. "I have a house in Himachal Pradesh and I consider it as my moral duty to be amongst my people during the hours of crisis," she was quoted by PTI in its report.
"We all are a family and we should stand by each other in such circumstances, sharing grief and ensure to do whatever we can for the people in distress," the statement quoted Gandhi as saying.
On July 14 and 15, flash floods and landslides caused by torrential rains wrecked devastation in the Kullu and Mandi districts.
During her visit to Kullu, Gandhi praised the attitude with which the people and the state government are dealing with the problem.
"The people of Himachal have set an example for the nation by uniting and coming to the forefront to help the affected families. People in the state have come forward to donate for those hit by natural calamities and even did 'shram dan' (physical labour) to open roads washed out by rains or blocked by landslides," the statement quoted Gandhi as saying.
Even though the state government is going above and beyond its capacity by utilising its limited resources to assist affected families, the All India Congress Committee (AICC) general secretary added that without the assistance of the Union government, it will be difficult to restore normalcy and complete renovation works in addition to providing aid to the people. On her trip to Manali from Kullu, the Congress leader stopped at the Sangam Bridge in Bhuntar, which was damaged by the overflowing Beas River during heavy rains in July, and chatted with flood victims at the Aloo ground in Manali.
She then went to Deori village in Drang, Mandi district, to assess the devastation caused by cloudbursts and landslides in the area. She also talked with several ladies who are volunteering to help with road reconstruction. She admired their dedication and determination in lending a hand and assisting amid the crisis.
Gandhi, who landed at Kullu's Bhuntar airport this morning, had previously spoken with Congress workers and local producers regarding apple output, transportation and the Adani group's apple box costs.
Requesting that the Centre "pay attention" to the situation of the state's farmers and horticulturist, Gandhi said: "The Centre has also reduced the import duty on the Washington apple, which will directly affect the horticulturists of the hill state, thereby causing losses to them."
Gandhi was joined by State Congress president Sukhvinder Singh Sukhu, who is also the incumbent Congress MP from Mandi Parliament seat, and Public Works Department Minister Vikramaditya Singh.
'Thanks, You Spared Time For Landslide-Hit HP After 2 Months': State BJP Hits Out At Priyanka Gandhi
In response to Gandhi's visit to the hill state, the Himachal Pradesh BJP chastised her for visiting the disaster-ravaged state after two months and made a disparaging remark: "Thanks, you spared time for this rain and landslide-hit state after two months."
BJP spokespersons Balbir Verma and Vivek Sharma said Congress leaders were "too busy assaulting Sanatan Dharma" to visit the state.
In a statement published on Tuesday, they claimed Gandhi should have ordered the state government to open all roads as soon as possible if the Congress administration was truly concerned about apple producers.
They urged Congress Chief Minister Sukhvinder Singh Sukhu to "stop complaining" about a lack of cash and to expedite relief and rehabilitation efforts. According to BJP officials, around 22 lakh women are awaiting the release of Rs 1,500 per month, and the promise of providing 5-lakh employment has yet to be fulfilled, despite the fact that the Staff Selection Commission has been abolished.
They requested that the chief minister get financing to assist catastrophe victims.
Former Chief Minister and Leader of the Opposition Jai Ram Thakur also urged the government to expedite relief and restoration efforts, saying that rather than making announcements, concrete actions are needed to assist people whose homes, farms, and crops have been destroyed and who are being housed in relief camps.
"Roads are closed, fruit-growers are worried as apple and vegetables are not reaching the markets. Water and electricity have not been restored at many places and the government must act fast and stop making alibis," he said in a statement, PTI reported. 
Himachal Pradesh Floods
Himachal Pradesh has experienced losses of Rs 8,679 crore from the start of the monsoon on June 24 to September 12.
According to the state emergency operations centre, around 270 individuals have perished as a result of rain-related disasters.
During the monsoon season, 165 landslides and 72 flash floods were reported. Out of the 111 deaths caused by landslides, 94 were recorded in the districts of Kullu, Mandi, Shimla, and Solan, as were 18 of the 19 deaths caused by flash floods.
Chief Minister Sukhu has estimated the damages at Rs 12,000 crore and has requested Prime Minister Narendra Modi to designate Himachal Pradesh's crisis a national disaster.
Doonited Affiliated: Syndicate News Hunt