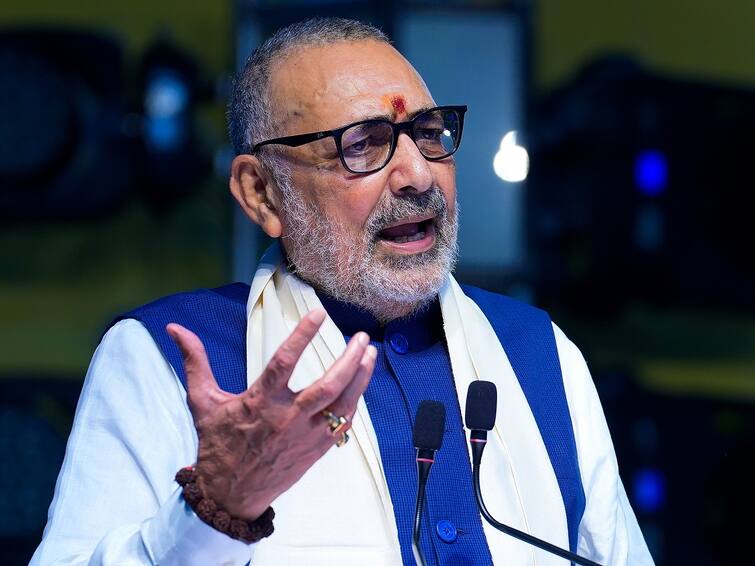 Union minister Giriraj Singh on Saturday (September 2) alleged that the curtailment of "Hindu holidays" in schools across Bihar shows that the Nitish Kumar government wants to impose the law of Sharia and establish an Islamic state. Singh, the BJP's MP from Begusarai, made the remarks during a protest in his Lok Sabha constituency that culminated in the burning of an effigy of Kumar, the state's longest-serving chief minister.
"It is an attempt to separate children from Sanatan culture so that they are unaware of festivals like Haritalika Teej, Janmashtami, and Navratri," Singh said, referring to the state education department's revised calendar. "I challenge the Bihar government to reduce any holidays that coincide with Muslim festivals," he was quoted as saying by news agency PTI.
"Unfortunately, they dare to play with Hindu sensibilities because this community is divided along caste lines," he added.
The JD(U) of Nitish, a former BJP ally now firmly in the opposition camp, reacted angrily, accusing the Narendra Modi government of having an "anti-Hindu mindset" by convening a Parliament session during the 'Ganesh Chaturthi' celebrations.
"We shall unite Hindus to foil the designs of Nitish Kumar, who made Bihar a hub of PFI, and his ally Lalu Prasad, who allowed SIMI to spread its tentacles across the state while in power," Singh added. According to the BJP leader, "the state government must withdraw the order cancelling Hindu holidays. Failure to do so will be interpreted as an attempt to convert Bihar into an Islamic Sharia-ruled state."
Meanwhile, JD(U) chief spokesman Neeraj Kumar said, "The government at the Centre has an anti-Hindu mindset, as evidenced by its decision to call a special session of Parliament during Ganesh Chaturthi. They should tell us what day of the Hindu calendar's Shravan month the cabinet gave its approval for the session," he was quoted as saying by PTI. 
"We suspect that the formalities were never completed, as is evident from the manner in which the Union parliamentary affairs minister informed about the session, casually, in a tweet," said the JD(U) spokesman, who is also an MLC and a former state minister.
READ | 'What's Wrong In Educating Children': Bihar CM Nitish Kumar After Facing Flak Over Move To Reduce Holidays
Earlier in the day, in response to the ongoing controversy over the reduction of festive holidays in government-run schools in Bihar, Chief Minister Nitish Kumar asked, "What is wrong with "educating children?" He stated that he supports education and that the action was only taken to ensure that children are taught on time.
"We want to teach children so they get a good education, so what's wrong with that (reducing holidays)," the JDU leader told the media. If any official or anyone else has a problem with it, please come and tell me. I will pay attention to everyone."
Doonited Affiliated: Syndicate News Hunt