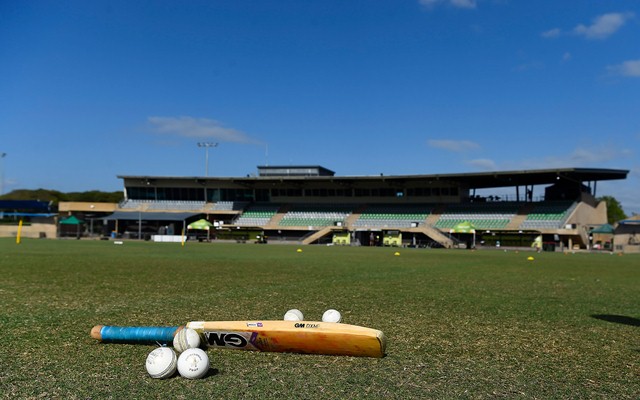 Day 3, Match 1
Tuesday, 15th August 2023: Mangaluru Dragons register their first victory in the second edition of the Maharaja Trophy KSCA T20. Wicket-keeper batsman BR Sharath lit up the M Chinnaswamy Stadium in Bengaluru with 9 fours and 5 sixes on his way to an unbeaten century, supported by opener Rohan Patil who scored a breezy 54 runs to ensure they chased down the target of 202 runs with five wickets to spare. 
The trend of winning the toss and bowling first continued as the Mangaluru Dragons skipper K Gowtham put the Mysuru Warriors in to bat first on a sunny afternoon. Opener CA Karthik was off the blocks and running in no time as he raced to a quickfire 29 runs off 18 balls helping the Warriors end the powerplay at a score of 54-2. 
The fall of both the openers within the powerplay didn't hamper the Mysuru Warriors' progress as captain Karun Nair and southpaw Rahul Rawat kept the scoreboard ticking by adding 47 runs off 35 balls for the third wicket before the latter was stumped off the bowling of K Gowtham. 
In walked Tushar Singh, who put on a partnership of 55 runs off 37 deliveries with captain Karun Nair who was at his finest. Singh was then dismissed by a bouncer from Aditya Goyal in the 18th over. Nair continued undeterred, tearing the bowling attack apart with a variety of crafty shots as he scored 77 runs off just 39 balls. Big-hitting Manoj Bhandage provided the perfect finishing touches scoring an unbeaten 10 ball 26 with two fours and two sixes to take the Warriors to a mammoth 201-5 in their 20 overs that included 52 runs in the final three overs. 
In the second innings, the early departure of MG Naveen was the only positive for the Mysuru Warriors in the powerplay that saw the Mangaluru Dragons score 73 runs with both Rohan Patil, the Impact Player, and BR Sharath finding the boundary with remarkable ease. The duo added 96 runs off 52 balls before Jagadeesha Suchith picked the wicket of Patil who had raced his way to 54 runs from 27 balls.  
BR Sharath continued his destruction of the Mysore Warriors bowling line-up, reaching his half-century in 33 balls with a six. He followed that up with three sixes in the thirteenth over of leg-spinner Kushal Wadhwani, who was the Impact Player for the Warriors. The fall of batsman Aneeshwar Gautam (6) to Jagadeesha Suchith brought KV Siddharth (14) to the crease who was looking good until he was out caught and bowled by Shreesha Achar.  
BR Sharath was dropped on 99 by CA Karthik and he made full use of the reprieve to bring up the first century of the tournament in 57 balls. Anirudha Joshi (2) fell to pacer M Venkatesh in the 19th over trying to finish the match with a six. Krishnappa Gowtham (5*) came in with the Mangaluru Dragons requiring just 5 runs to win off 9 balls and he made no fuss of it with the Dragons winning by 5 wickets and 7 balls to spare with Sharath remaining unbeaten on 111* from a mere 61 deliveries. 
Brief Scores 
Mangaluru Dragons won by 5 wickets and 7 balls to spare 
Mysuru Warriors – 201/5 in 20 overs (Karun Nair- 77 off 39 balls, Codanda Ajit Karthik – 29 off 18 balls, Manoj Bhandage – 26 off 10 balls, Krishnappa Gowtham – 1/30, Prateek Jain – 1/35, Naveen MG – 1/42, Aditya Goyal – 1/49) 
Mangaluru Dragons 202/5 in 18.5 overs – (Sharath BR – 111* off 61 balls, Rohan Patil – 54 off 27 balls, KV Siddharth – 14 off 9 balls, Muralidhara Venkatesh – 2/36, Jagadeesha Suchith – 2/37, Shreesha Achar – 1/23) 
Day 3, Match 2
Bengaluru, Tuesday, 15th August 2023: Shivamogga Lions recorded their second consecutive victory with a comprehensive 36-run win over the Kalyani Bengaluru Blasters in the Shriram Capital Maharaja Trophy KSCA T20, powered by Fancode. Rohan Kadam was the architect in chief scoring 70 runs off 47 balls with ample support from Nihal Ullal (40) and Kranthi Kumar (25) combined with a solid team effort in the field that saw four Bengaluru Blasters batters being run out.
Invited to bat, the Shivamogga Lions' openers Nihal Ullal and Rohan Kadam made full use of the powerplay taking the team total to 65 runs in the first 5 overs. Ullal was dismissed on the last ball of the fifth over by Bengaluru Blasters' pacer T Pradeep after having scored a lightning-quick 40 runs off just 17 deliveries that included 4 fours and 3 sixes with Vidyadhar Patil being his prime victim, conceding 31 runs off his first two overs.
The Bengaluru Blasters managed to pull things back with no.3 batter Rohith Kumar (11) struggling to find his rhythm. Momentum shifted towards the Bengaluru Blasters as they kept things tight, conceding just 26 runs from overs 6-10. Pacer Lochan Appanna was brought into the attack in the eleventh over and he picked up the wicket of Kumar (11 runs off 18 balls), before being taken for 20 runs in the fourteenth over as a result of 2 sixes and a four from Rohan Kadam.
At the end of 15 overs, the Shivamogga Lions were on a 137-2, with Rohan Kadam looking well set on 62 runs from 41 balls and Abhinav Manohar (31), who came in at no.4, looking to cash in on the death overs. However, in a bid to accelerate, Rohan Kadam was caught at covers off T Pradeep. On a similar pursuit, Manohar soon departed for 31 runs off 20 balls to pacer Kumar LR. A crucial cameo from Kranthi Kumar (25 runs off 10 balls) helped the Shivamogga Lions breach the 200-run mark, finishing at 201/5.
In reply, the Bengaluru Blasters were off to a disastrous start, losing both their openers, skipper Mayank Agarwal and Bhuvan Raju, without a run on the board. Just as the Blasters seemed to be getting a hold of proceedings with a 50-run partnership between Jeswanth Acharya (29) and Pavan Deshpande (32), comprising 31 runs from the final two overs of the powerplay, the former was run out by a brilliant direct hit from Kranthi Kumar.
Suraj Ahuja (6) departed in the tenth over and Pavan Deshpande soon followed while attempting to up the scoring rate with a big shot. Shubhang Hegde (22) looked threatening but fell to mystery spinner Deepak Devadiga.
27 runs came in the 16th over with two sixes each from Aashish Mahesh (30*) and Lochan Appanna (17) to provide a glimmer of hope for the Bengaluru Blasters. However, the four run-outs proved to be their undoing as they eventually fell short by 36 runs, with Mahesh being left stranded on 30 runs off 24 balls along with Kumar LR who scored 16 runs off 9 balls.
Brief Scores
Shivamogga Lions won by 36 runs
Shivamogga Lions – 201/5 in 20 overs (Rohan Kadam – 70 off 47 balls, Nihal Ullal – 40 off 17 balls, Abhinav Manohar – 31 off 21 balls, LR Kumar – 2/38, Pradeep T – 2/46, Lochan Appanna – 1/28)
Kalyani Bengaluru Blasters – 165/8 in 20 overs (Pavan Deshpande – 32 runs off 24 balls, Aashish Mahesh – 30* runs off 24 balls, Jeswanth Acharya – 29 runs off 21 balls, Shubhang Hegde – 22 runs off 13 balls, Shreyas Gopal – 1/11, Adhoksh Hegde – 1/22, V Koushik – 1/23, Deepak Devadiga – 1/45)
Doonited Affiliated: Syndicate News Hunt