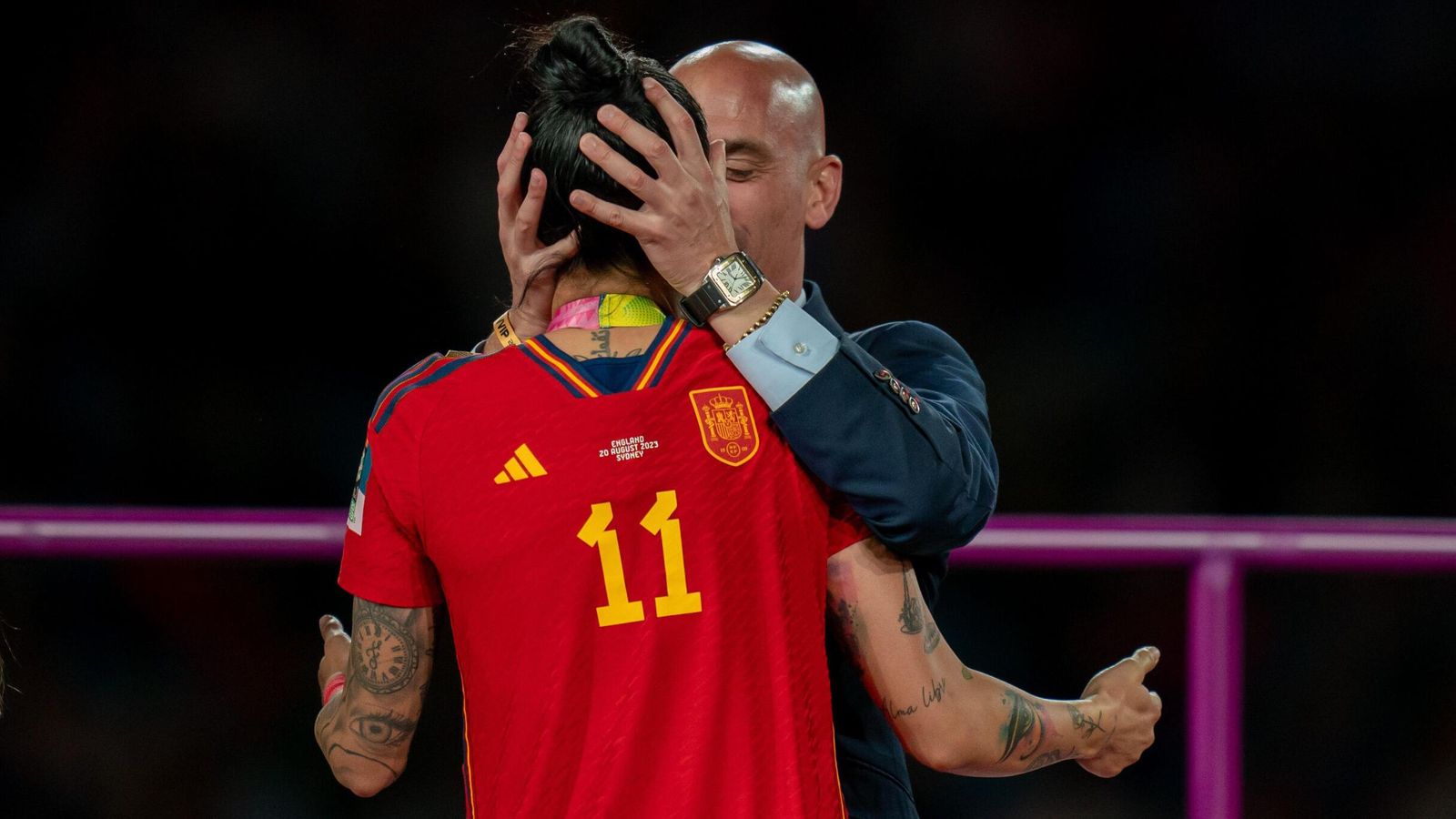 Spanish prosecutors have opened inquiries into the kiss by Spanish FA boss Luis Rubiales.
They announced on Monday they believe the facts of the case may constitute an offence of sexual harassment.
There has been widespread criticism of Mr Rubiales, 46, after he kissed player Jenni Hermoso on the lips following Spain's Women's World Cup final win.
The prosecutors said Hermoso now has 15 days to formalise the complaint.
The prosecutors' office said: "It was agreed to approach Jenni Hermoso so as to inform her of her rights as a possible victim of the offence of sexual harassment… and to offer her the opportunity should she wish within the next 15 days to file a complaint with the Prosecutors Office of the Spanish High Court."
The prosecutor's office said it opened pretrial enquiries because of "public statements made by Jenni Hermoso that the sexual act she experienced and was carried out by Mr Rubiales was non-consensual".
Spanish FA president's mother goes on hunger strike – World Cup kiss row latest
FIFA suspended Mr Rubiales on Saturday.
In response, Mr Rubiales said he would defend himself after his suspension.
A statement released by the Spanish Football Association said: "Luis Rubiales has stated that he will legally defend himself in the competent bodies, he fully trusts FIFA and reiterates that, in this way, he is given the opportunity to begin his defence so that the truth prevails."
Amid the controversy, Mr Rubiales' mother locked herself in a church earlier today and is going on hunger strike over the "inhuman and bloody hunt" against her son.
Following days of criticism and calls for Mr Rubiales to quit following the Women's World Cup final, the Spanish football federation yesterday called an "extraordinary and urgent" meeting into the situation.
Mr Rubiales was widely expected to resign at a meeting on Friday but instead made a defiant speech, claiming he was the victim of a witch-hunt by "false feminists" and insisting the kiss with Jenni Hermoso was consensual.
The federation's interim president Pedro Rocha has called the meeting in Madrid today "to evaluate the situation in which the federation finds itself" and look at "the decisions or actions to be taken," a spokesman said on Sunday.
An internal investigation is also under way after the federation's sexual violence protocol was activated.
Maria Dolores Martinez Madrona, the protocol's protection delegate who is conducting the investigation, said in a statement "we demand the utmost respect for the right to privacy and dignity of every person involved".
Doonited Affiliated: Syndicate News Hunt