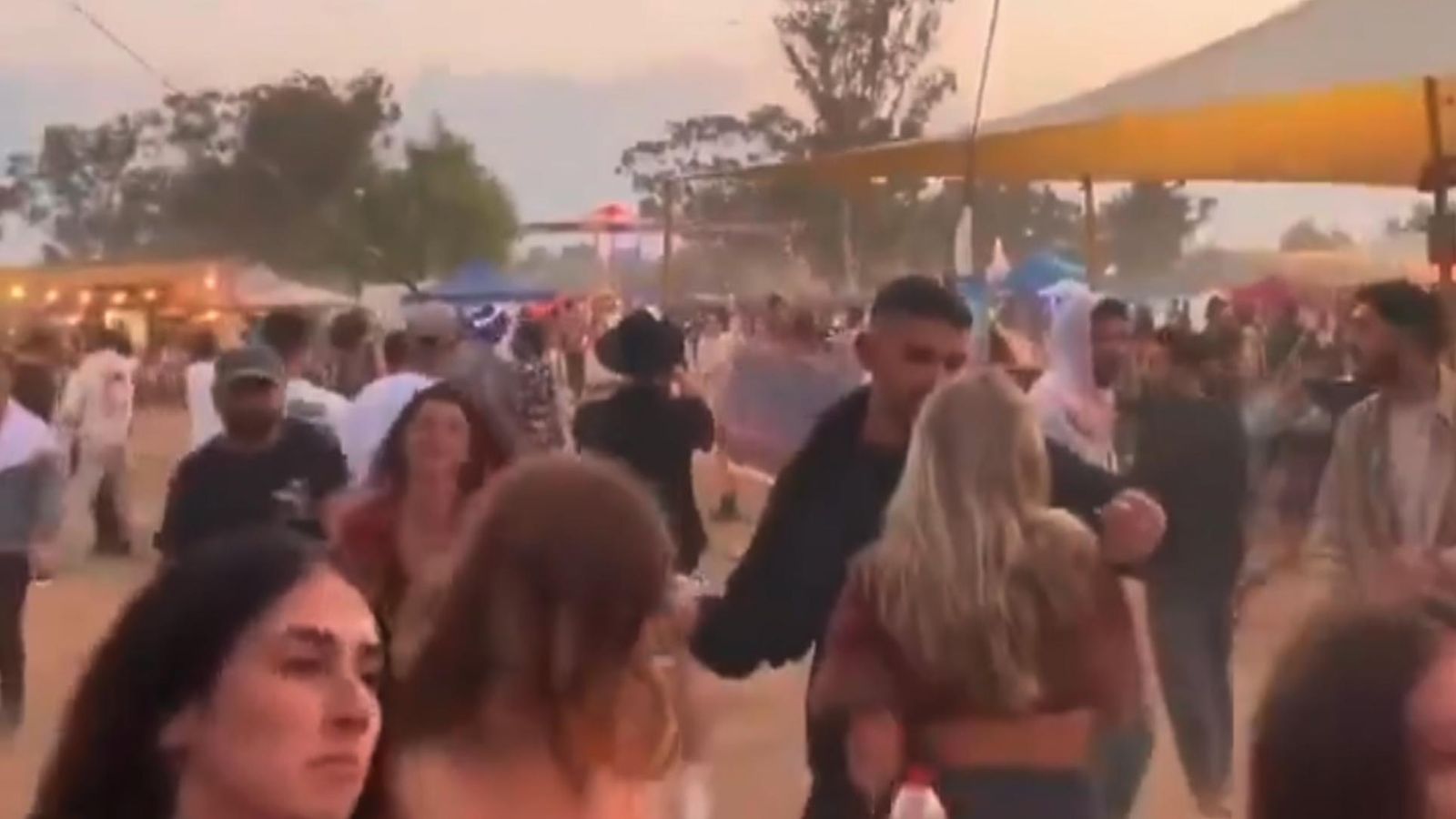 At least 260 bodies were found after Hamas targeted a music festival in Israel as part of its incursion, rescuers have said.
Those killed at the Supernova festival near Re'im, in the south of the country are among hundreds killed so far.
The number dead at the music event in the desert region of Negev was given by the Israeli rescue service Zika on Sunday.
Read more: US Navy aircraft carrier to move closer to Israel – Israel-Gaza latest
Social media footage shows people dancing late into Friday, before the attack in the early hours of Saturday.
People are then seen running through an open field with gunshots firing in the background in a separate clip.
Another video shows a young woman being forced onto a motorbike as she pleads with the two men taking her: "Please don't kill me."
She is also seen in separate footage at an unknown location sitting down and drinking water.
Moment woman 'kidnapped' by Hamas fighters

Her father Yakov Argamani confirmed the woman in the footage is his daughter 25-year-old student Noa Argamani.
Mr Argamani spoke to local media, saying through tears: "What can I say? All my life, since she was born, I tried to protect her, and hug her, and support her, and love her.
"And here at this difficult moment, even to cheer her up, I couldn't offer her a hand."
The faces of the people missing after the attack

After breaching the heavily guarded border early on Saturday, Hamas militants have taken at least 100 Israelis hostage.
Read more:
British man killed in Israel
Haunting messages of people kidnapped
The Israeli US embassy said women and children were among those captured and that several hostage situations are still "ongoing".
Both soldiers and civilians have been taken, with some being taken back over the border into Gaza – and others paraded through the streets.
At a news conference held by relatives of people still missing, parents told of harrowing phone calls they received from their children.
According to Israeli officials, 1,590 people have been left injured since the incursion began on Saturday.
Meanwhile in Gaza, 413 Palestinians have been confirmed dead and 2,300 injured, according to the health ministry.
Israeli Prime Minister Benjamin Netanyahu told those still in Gaza to "leave now" as he threatened to turn it "into rubble" in response to the weekend's attacks.
Doonited Affiliated: Syndicate News Hunt