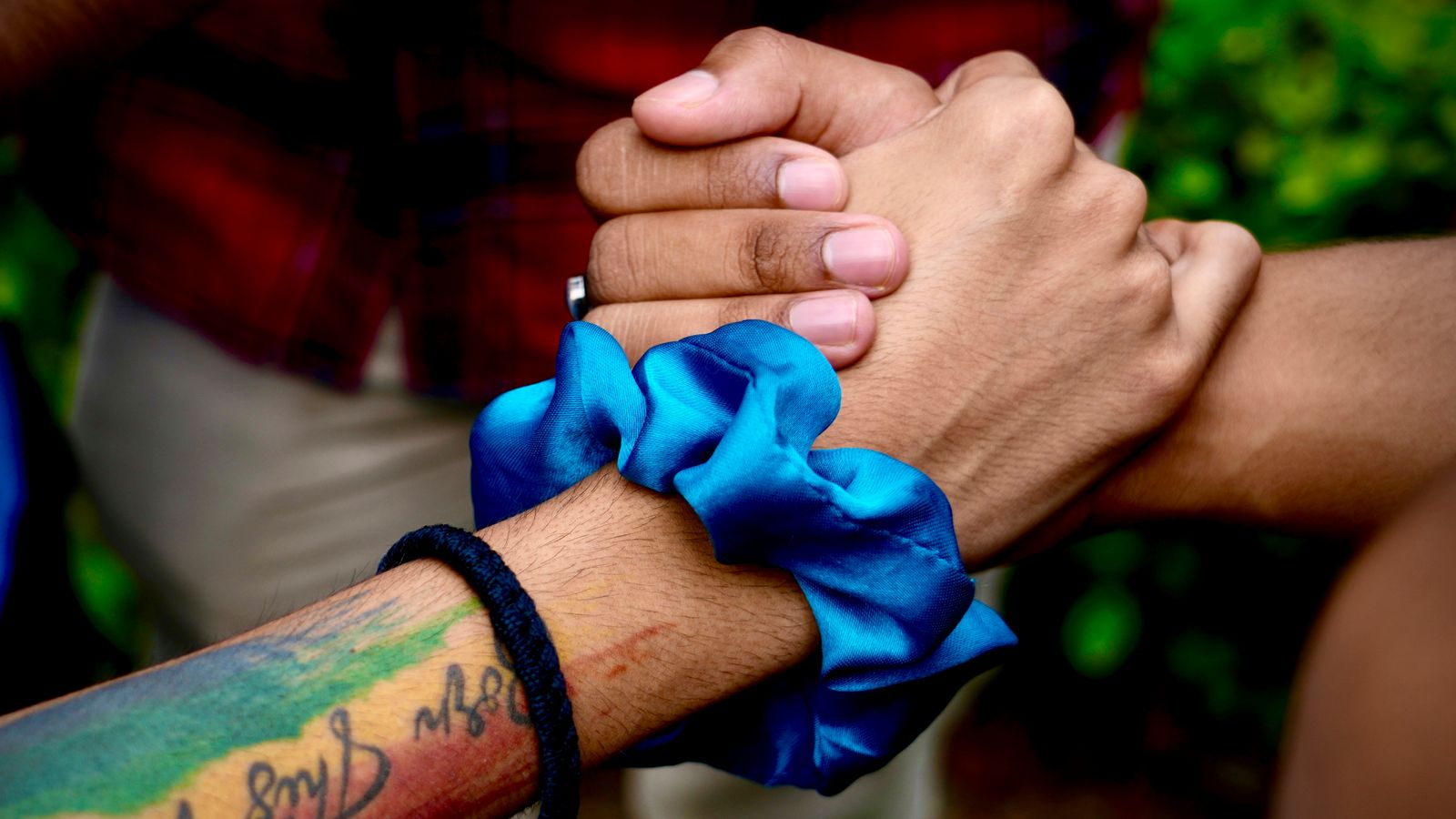 India's Supreme Court has shied away from legalising same sex marriage after a 10-day hearing.
The five-member constitutional bench had taken up the case earlier this year.
In its decision, Chief Justice of India, DY Chandrachud, said "that the court can neither strike down or read words into the Special Marriage Act to include same sex members within the ambit of the 1954 law".
It is up to parliament and state legislatures to enact laws on marriage, the court said.
But "queer persons", he said, do "have an equal right and freedom to enter into a union".
The case was brought to the highest court in the land by 18 couples and petitioners seeking legal recognition of conjugal rights.
They challenged the constitutionality of provisions of various marriage laws on the grounds that they are discriminatory and deny equality to citizens, a fundamental right enshrined in the constitution of India.
Petitioners cited provisions of the Indian Constitution, the Human Rights Declaration of the United Nations, as well as various international conventions and laws passed in several other countries giving equal rights to the LGBTQ+ community.
Religious groups, social organisations and some individuals joined ministers in opposing the case.
Marriage is for a 'biological man' and a 'biological woman'
In its arguments, the right-wing government of Prime Minister Narendra Modi vehemently opposed the issue of equality as it does not align with the Indian concept of marriage and said only parliament could make new laws.
The government argued that marriage is an exclusively heterogeneous institution between a "biological man" and a "biological woman".
The creation or recognition of a new social institution altogether, it argued, "cannot be claimed as a matter of right or a choice, much less a fundamental right".
Same-sex marriage is an "elitist, urban concept", it argued, adding that a judicial re-writing of an entire branch of law is down to parliament.
The court said it was willing, though, to consider giving certain rights to same sex couples, short of legal recognition of marriage.
Even though homosexuality was decriminalised in 2018, the LGBTQ+ community has yet to be granted family rights.
While striking down the colonial era law, the judgement said "history owed an apology to LGBTQ+ people and their families for the ignominy and ostracism they have faced".
Complex laws and ancient Hindu texts
Campaigners believe same sex marriage would be the next logical step as the court emphasised that all have a right to choose their partner.
Legalising same sex marriage would also provide protection and promote social acceptability to a community that has suffered discrimination for decades.
The issue of marriage is complex, as there are around 35 related laws that are interconnected to marriage – the right to adopt or have children by surrogacy or assisted reproductive technology, rights of inheritance, divorce, maintenance, tax benefits, pensions to a widow and issues that spill into religious personal laws.
Ancient Hindu texts and Indian mythology have many instances of the third gender and men transforming into women.
During its colonial rule over India, Britain enacted laws in 1860 that criminalised same sex intercourse and restricted marriage to heterosexual couples.
These laws continued even after India gained independence in 1947.
England and Wales legalised same-sex intercourse in 1967 and same sex marriage in 2013, two years before the US followed suit.
Read more on Sky News:
Two men acquitted over serial killings
At least 40 people dead after glacial lake flooding in Himalayas
Suspected gunman who killed two is shot by police
The struggle for LGBTQ+ rights gained momentum in the late 20th century as campaigners took up the cause of discrimination and violence faced by the community.
Despite opposition from religious and right-wing groups, the community fought for their rights.
There are no exact numbers of the LGBTQ+ community in India, but activists dispute the government's estimate of 2.5 million.
They claim there could be as many as 140 million, based on the universal global calculation that at least 10% of any population fall into this group.
Doonited Affiliated: Syndicate News Hunt