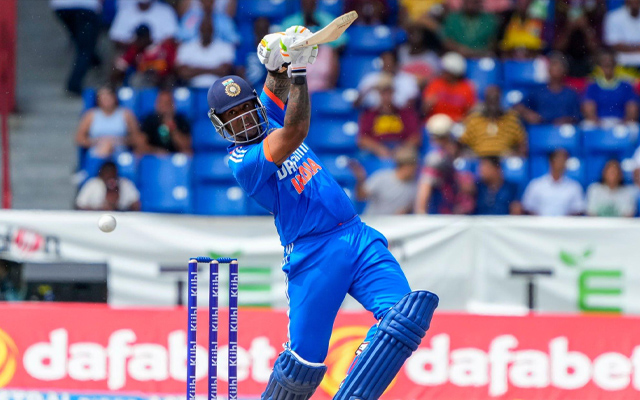 Despite being one of the most promising cricketers in the shortest format of the game, Suryakumar Yadav has failed to make a name for himself in ODI cricket. The 32-year-old has represented the national team in 26 ODI matches and scored only 511 runs. Despite so, the cricketer has been called up for the upcoming Asia Cup, as the selectors expect him to get better and dominate the format as he has done so far in T20Is.
Notably, Suryakumar understands the fact that he has not been able to deliver in the 50-overs format and wants to get back. He understands that the Asia Cup is the perfect platform, and he is in constant touch with head coach Rahul Dravid, skipper Rohit Sharma and Virat Kohli to improve his game in ODI cricket. He also added that he is ready to fulfil whatever role the team management offers him.
"I would try to fulfill the role I am given by the team, no matter what role. This is a format I am looking forward to doing well in. I am doing great in T20Is. But these both are white-ball formats. Why I cannot crack the code here, people are wondering," Suryakumar told Star Sports. 
"I am practising. For me, this format is the most challenging one..you have to play a mix of all formats in this one. First you take your time, then you do some strike rotation then go for some big shots like in T20Is. I have been talking to head coach Rahul Dravid, Rohit Sharma and Virat Kohli," he added.
I am now trying to play as per the situation and practising accordingly: Suryakumar Yadav
Giving a slight update about his practice session, Suryakumar mentioned that he is trying to adapt to the situation and is adjusting accordingly. 
"But I am now trying to play as per the situation and practising accordingly. Hopefully, this is the tournament where I crack the code. I am always excited to bat. It does not matter if I am out on the first ball. People ask me why I sprint to the crease when my chance to bat comes, but I feel that maintaining this excitement is important," Suryakumar mentioned.
Doonited Affiliated: Syndicate News Hunt