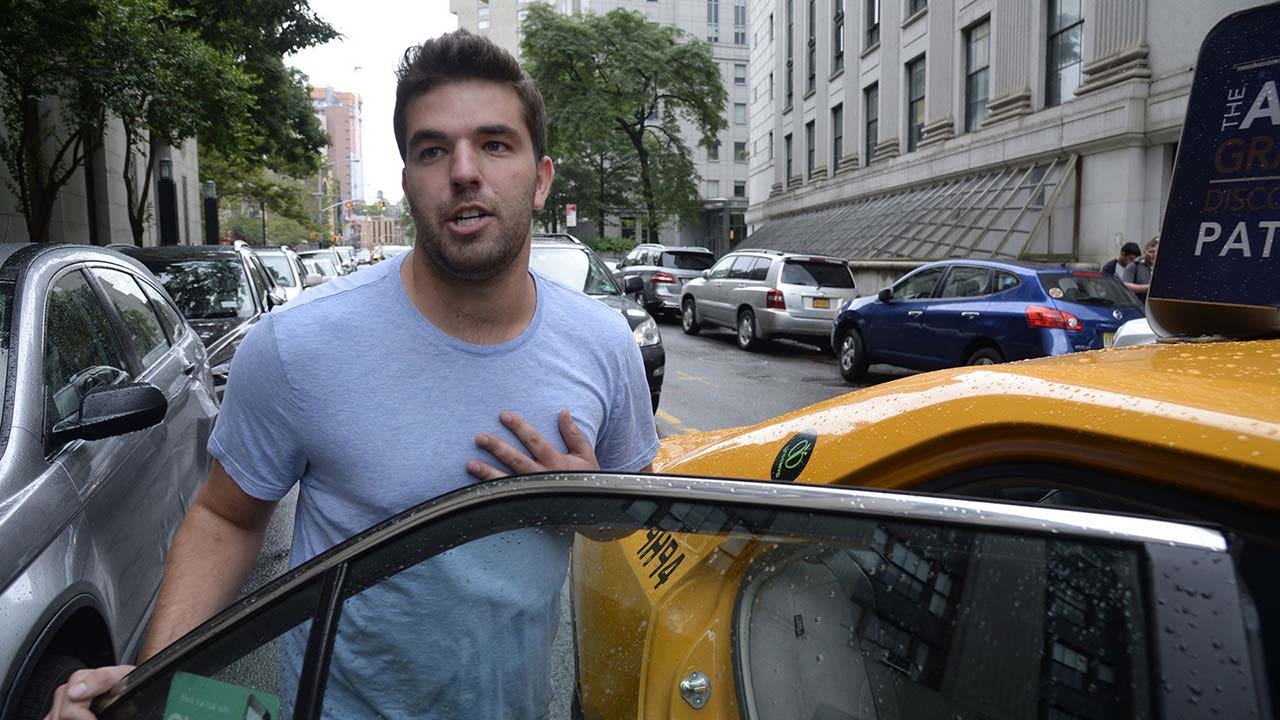 Billy McFarland is ready to go ahead with the second Fyre Festival — despite the fact that the first one is the reason he landed in prison — and tickets are apparently selling out. 
The 31-year-old convicted fraudster spent four years in prison after he defrauded investors out of millions of dollars for the 2017 festival that was supposed to give ticket holders a luxury experience, but in reality participants wound up sleeping in tents while eating cheese sandwiches as headlining acts like Blink-182 backed out over its disorganization. 
"It has been the absolute wildest journey to get here, and it really all started during a seven-month stint in solitary confinement," McFarland excitedly told his followers in a Sunday Instagram post announcing that tickets to the new festival were officially on sale.  
He explained during that time he wrote a 50-page plan to figure out how he would use "this interest and demand in Fyre and how I would take my ability to bring people from around the world together to make the impossible happen."
FYRE FESTIVAL FOUNDER BILLY MACFARLAND WORKING ON PRISON MEMOIR
He added that he wanted to find the "best partners in the world to allow me to be me while executing Fyre's vision to the highest level."
"We spoke to people as far away as the Middle East and South America and ultimately we decided that Fyre Festival 2 is coming back to the Caribbean," he said, adding that organizers were "targeting" the festival for the end of 2024 and would be doing pop-ups and other events around the world until then. 
"Guys, this is your chance to get in. This is everything I've been working towards. So let's f—— go!" he added emphatically. 
In a Tuesday update, McFarland said the first ticket drop had sold out, promising, "This time we have incredible support. I'll be doing what I love while working with the best logistical and infrastructure partners."
He added that the organizers "look forward to surprising the world alongside our partners as we build FYRE and FYRE Festival II into the island adventure of a lifetime." 
The ticket website showed that the first 100 pre-sale tickets for $499 had sold out on Tuesday and that the next 400 would be available for $799. Then the prices would increase from between $1,199 to $7,999 for the last-chance pre-sale tickets as tickets get sold. Those interested were able to get on a waitlist as of Wednesday. 
CLICK HERE TO READ MORE ON FOX BUSINESS
The website said the festival would take place around Dec. 6, 2024 in the Caribbean — without giving any more specifics — and no musical acts have been listed.
A ticket gets the buyer into the 2024 festival as well as "VIP access to FYRE Events, Experiences, and Community" prior to the festival, of which, they said there would be at least four events.
Organizers were also selling festival gear on the website, including a $200 hoodie with the Fyre Festival logo on it.
JA RULE RESPONDS TO FYRE FESTIVAL CONTROVERSY FOLLOWING DOCUMENTARIES SAYING HE TOO WAS SCAMMED
McFarland in his announcement also claimed that he is planning a musical about the Fyre Festival, without going into any details. 
His Tuesday post was filled with comments from people who weren't yet sold on the idea. 
"Are you going to payback all the people and families you literally destroyed after the last Fyre???" one person wrote, while another said, "I do not know what's more unbelievable… that he's doing this again, or that there's people out there that would actually fall for this again… either way, the next documentary on Netflix will be good!" 
A third wrote, "Felony II coming soon for you Billy Boy."
Still, they had buyers. 
Victoria Medvedenko, 20, told the Washington Post that she and her boyfriend bought two of the first 100 tickets for $499 that sold out. 
GET FOX BUSINESS ON THE GO BY CLICKING HERE
"I really don't think Billy would want to go back to jail and he's had a lot of time to think about it and prepare this time," she told the newspaper. "And I think the first time around it had a lot of potential. He just didn't have enough time or the right mind-set."
Doonited Affiliated: Syndicate News Hunt