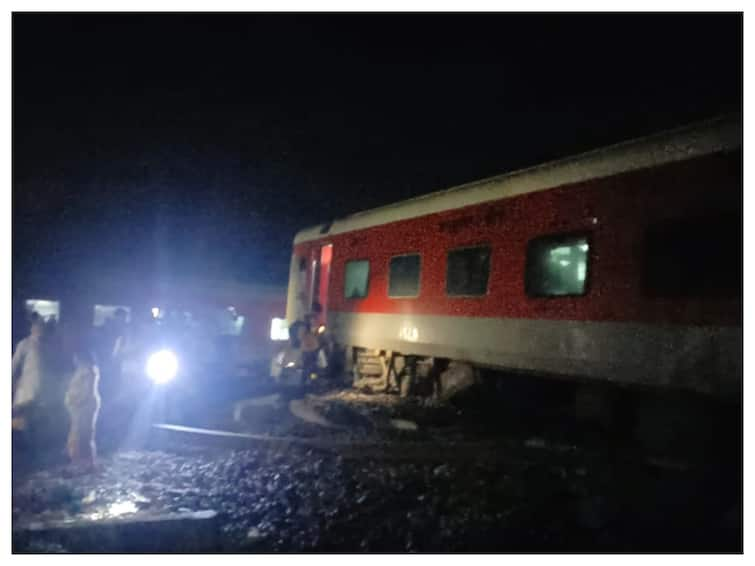 New Delhi: Five coaches of Kamakhya-bound North-East Express train derailed near Raghunath station in Bihar's Buxar district on Wednesday, news agency PTI quoted an Indian Railways official as saying.
According to the railway official, the accident took place close to Raghunathpur station near Buxar at 9.35pm on Wednesday. There were no reports of any casualty, he added.
बुलेटिन – 02
23.23 hrs.

मेडिकल टीम और अधिकारियो के साथ-साथ दुर्घटना राहत यान घटना स्थल के लिए रवाना हो चूका है। किसी प्रकार की जन हानि नहीं हुई है।


— East Central Railway (@ECRlyHJP) October 11, 2023
The superfast train was on its way to Kamakhya near Guwahati in Assam.
"Some coaches of train number 12506 North East Express going from Anand Vihar Terminal to Kamakhya derailed at 21.35 today near Raghunathpur station of Danapur division," news agency ANI quoted a Railway official as saying.
The Northern Railways shared helpline for emergency contact. Helpline number PNBE: 9771449971, DNR: 8905697493, ARA: 8306182542, COML CNL: 7759070004.
Bihar deputy chief minister Tejashwi Yadav said he has directed the officials of disaster management, health department and district officials of Buxar and Arrah to make proper arrangements for the injured and send the officers concerned to the incident site as soon as possible.
दिल्ली से गुवाहाटी जा रही नॉर्थ ईस्ट एक्सप्रेस की बक्सर में कई बोगियाँ पलटने की दुःखद घटना पर आपदा प्रबंधन विभाग, स्वास्थ्य विभाग तथा बक्सर व भोजपुर के जिला पदाधिकारियों से वार्ता कर यथाशीघ्र घटनास्थल पहुँच राहत एवं बचाव कार्य में तेजी लाने एवं घायलों की समुचित चिकित्सा व्यवस्था…


— Tejashwi Yadav (@yadavtejashwi) October 11, 2023
Meanwhile, Union minister Ashwini Choubey said he spoke with the deputy general of the National Disaster Response Force and other officials and also Union railways minister Ashwini Vaishnaw.
"I have appealed to our workers and they are engaged in rescue operations. Medical teams have been sent. Rescue operation is going on. I am also going to Raghunathpur, Buxar," Choubey said.
Doonited Affiliated: Syndicate News Hunt