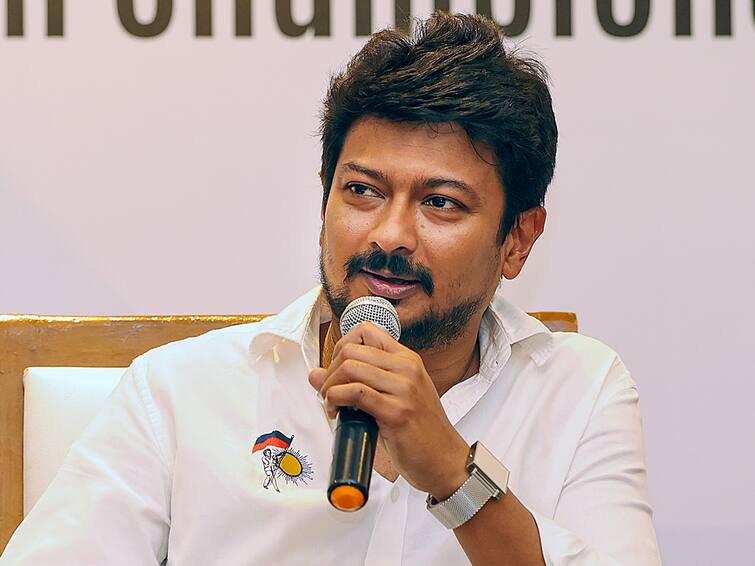 Tamil Nadu Youth Welfare Minister and DMK leader Udhayanidhi Stalin on Sunday vehemently denied accusations made by the BJP that his recent remarks on 'Sanatan Dharma' amounted to hate speech against Hinduism. He accused the saffron party of twisting his remarks and spreading false information for political purposes as it is "scared of I.N.D.I.A alliance". Rubbishing the claim that he was calling for "genocide" of Hindus, he said he was ready to face all cases being put up against him.
"BJP is twisting my statement and spreading fake news, it's their usual job. BJP is scared of I.N.D.I.A alliance day before yesterday's meeting, to divert that they are speaking something," he said, as quoted by news agency PTI.
VIDEO | "நான் சரியாக தான் சொன்னேன், வழக்கம் போல அதை மாற்றி, பாஜக பொய் செய்தியை பரப்பு வருகிறது. நேற்று முன் தினம் நடைபெற்ற INDIA கூட்டணியின் வெற்றி அவர்களுக்கு பாதிப்பையும், தடுமாற்றத்தையும் கொடுத்திருக்கிறது. அந்த வெற்றியை திசைத்திருப்பவே இப்படி பேசி வருகிறார்கள் (BJP is… pic.twitter.com/lVOIExSguz


— Press Trust of India (@PTI_News) September 3, 2023
"I am saying again that I only criticised Sanatana Dharma and that Sanatana Dharma should be eradicated. I will say this continuously. Few are being childish saying I invited for genocide while others are saying that Dravidam should be abolished. Does that mean DMKians should be killed? When PM Modi says 'Congress Mukth Bharat', does that mean congressmen should be killed? What is Sanatana? Sanatana means nothing should be changed and all are permanent. But the Dravida model calls for change and all should be equal," the Tamil Nadu Chief Minister MK Stalin's son said, as quoted by news agency ANI.
"BJP twisting my statement and spreading fake news, it's their usual job. I am ready to face whatever cases they file against me. BJP is scared of the I.N.D.I.A Alliance and to divert that they are saying all this… DMK's policy is One clan, one God," he added.
Addressing a gathering of the Tamil Nadu Progressive Writers and Artists Association on Saturday, Udhayanidhi Stalin criticised the 'Sanatan Dharma', alleging that it promotes inequality and social injustice by dividing people based on caste. He argued that the very name "Sanatan" implies something eternal and unchanging, which he interpreted as a hindrance to social progress.
ALSO READ | 'Sanatan Dharma' Row: 'No Call For Genocide,' MP Karti Defends Udhayanidhi As Cong Faces BJP's Barbs — Top Quotes
BJP's Terms Udhayanidhi Stalin's Remarks As Call For 'Genocide'
In response to Udhayanidhi Stalin's comments, the BJP targeted the opposition bloc I.N.D.I.A and Congress leader Rahul Gandhi, along with Tamil Nadu's ruling party. Union Home Minister Amit Shah accused I.N.D.I.A alliance parties of insulting Sanatan Dharma for the sake of vote bank politics. BJP president J P Nadda called on people to reject the opposition grouping, which he claimed was spreading hatred and attacking the country's culture and tradition.
BJP IT cell chief Amit Malviya went on to claim that the DMK leader has called for "genocide of 80 per cent population of Bharat, who follow Sanatan Dharma". The party's other leaders described Udhayanidhi Stalin's remarks as hate speech while Rajya Sabha MP Sushil Modi called for his arrest and imprisonment.
ALSO READ | 'Test For Rahul Gandhi': Assam CM Asks If Congress Will Sever Ties With DMK Over 'Sanatan Dharma' Remark
'Sanatan Enslaved Women': TN Minister Udhayanidhi Stalin
In his speech on Saturday, the Tamil Nadu minister pointed out the progress made by women in various fields today compared to historical practices associated with the 'Sanatan Dharma'. Udhayanidhi Stalin, who also holds the sports development portfolio, cited examples of social reforms introduced by the DMK, such as fare-free travel for women on buses and financial assistance for girl students.
"While Sanatan enslaved women and did not allow them to step out of their homes, they are today making achievements in sports and many women are also financially independent.What did Sanatan do to women? It pushed women, who lost their husbands, into fire (the erstwhile practice of Sati), it tonsured the heads of widows and made them wear white saris. Child marriages too happened.  What did the Dravidam (the Dravidian ideology followed by DMK regime) do? It gave fare-free travel for women in buses, gave Rs 1,000 monthly assistance to girl students for their college education. From September 15, women beneficiaries would be getting Rs 1,000 monthly assistance (basic income scheme)," he said, as quoted by PTI.
In his closing remarks, Udhayanidhi Stalin called for unity within the DMK and urged party members to aim for victory in all 39 Parliamentary constituencies in Tamil Nadu and the single segment in Puducherry in the 2024 Lok Sabha polls, promoting the Dravidian ideology and vision.
Subscribe And Follow ABP Live On Telegram: https://t.me/officialabplive
Doonited Affiliated: Syndicate News Hunt