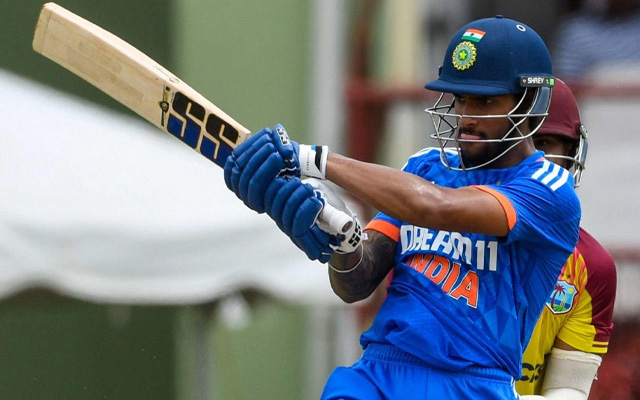 Former Australia batter Matthew Hayden feels that the inclusion of youngsters like Tilak Varma in the India squad will put pressure on the relatively experienced team members, creating an environment of healthy competition.
Hayden's remark comes after India named an 18-member squad for the 2023 Asia Cup on August 21, including young southpaw Tilak, who is uncapped in the ODI format but found a spot on the back of an impressive couple of Indian Premier League editions with the Mumbai Indians and a solid showing against West Indies in his maiden T20I series, where he was India's leading run-getter with 173 runs in five innings at an average of 57.66 and strike rate over 140.
"We've seen the class of Tilak Varma. I think it's a good strategy in terms of not just this World Cup but even potentially getting into the next World Cup as well," Hayden said on the sidelines of the CEAT Cricket Rating Awards ceremony in Mumbai.
"The great thing about India is it's got a really solid one-two-three combination. Similar to Australia actually, when you look at their last four or five months, they've had a really good and strong – what we like to call – the engine room. And then they've got some good problems to solve through the middle order.
"And if they can fill spots with talented young players like Tilak Varma, put pressure on someone like Suryakumar Yadav, I think that's a good strategy. Keep everyone honest in the side and performing. So not a bad move. I think it's a great side."
Touching upon the rigors of modern-day cricket and crunch scheduling, which invariably increases the chances of injuries to players, Hayden stated that the availability of backups always comes in handy.
India have been constantly grappling with player availability issues due to injuries to multiple first-choice players in the last year. Jasprit Bumrah and Prasidh Krishna have returned to top-level athletic activity as recently as the Ireland T20Is while KL Rahul and Shreyas Iyer – both of whom have also missed a large chunk of cricket due to injuries – will return to action straightaway in the Asia Cup.
"In the landscape of modern cricket now, you're going to get injuries. We've seen that with Jasprit Bumrah and we've seen the emergence of players in and around him that have had an opportunity because he hasn't been playing. They look at their bench strength as much as they look at their playing make-up because ultimately, you're going to be challenged," Hayden said.
Hayden also said that the continental championship will be India's best chance to find the answers to the selection questions ahead of the World Cup, which kicks off on October 5 at home.
"The Asia Cup is kind of where you're going to see a lot more answers to those questions. Playing in their home conditions, in the build-up to the World Cup – the World Cup's on our doorstep – that's about as good as you get from the subcontinent teams, playing in Sri Lanka, in Pakistan, ahead of an enormous campaign here in India. There's no question that you're going to have bench players playing in this World Cup. Your outliers are as important as your key players. And it's in your favour.
"But we all know how much everyone loves cricket here as well. To be at home, there's an enormous pressure that will come with that. But I think that you've got good lead-up time and good preparation."
Doonited Affiliated: Syndicate News Hunt