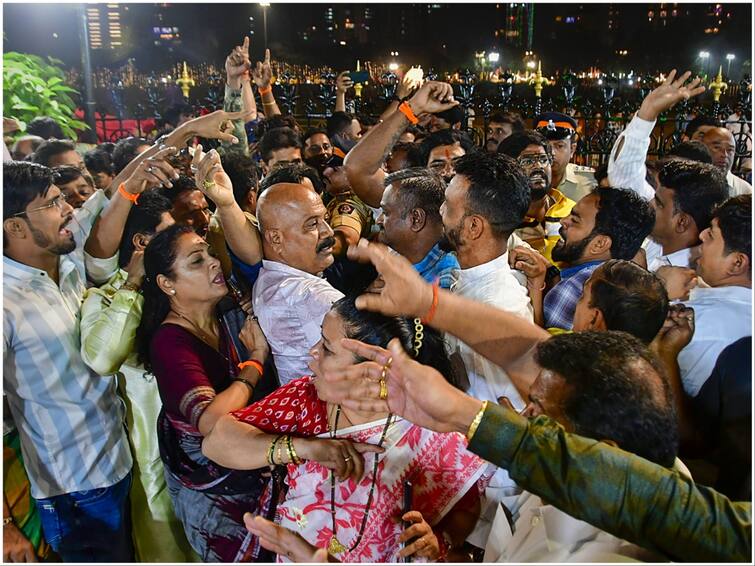 Tensions flared on Thursday as workers of Eknath Shinde-led Shiv Sena and the Shiv Sena (UBT) led by Uddhav Thackeray confronted each other and raised slogans against one another at the memorial of the late Bal Thackeray, whose 11th death anniversary is set to be observed on Friday.
Police intervened to disperse the crowd, reported news agency PTI. Shiv Sena workers asserted their ownership of the party with spirited slogans, while those aligned with Uddhav Thackeray responded with chants of "traitors go back."
The incident unfolded after Chief Minister Shinde arrived at the memorial in Shivaji Park, Dadar, to pay homage to Bal Thackeray.
Addressing reporters, the CM highlighted that Prime Minister Narendra Modi had realized the late Shiv Sena founder's dream of constructing a Ram Temple in Ayodhya, Uttar Pradesh. The temple inauguration is scheduled for the eve of Bal Thackeray's birth anniversary.
While Thackeray was born on January 23, 1926, the consecration of the Ram Temple in Ayodhya is slated for January 22.
CM Shinde emphasized that his government is committed to fulfilling the dreams and aspirations of Bal Thackeray.
Krishna Hegde, spokesperson for the Shiv Sena (Shinde faction), noted that, as in the previous year, CM Shinde paid tribute at the Shivaji Park memorial on the eve of the death anniversary to prevent any conflicts. Hegde alleged that the situation turned tense with the arrival of Uddhav Thackeray faction's MP Anil Desai and MLC Anil Parab, who came with a group of people to disrupt the peaceful occasion.
Hegde accused the Uddhav faction of attempting to create chaos and a law and order situation, calling it an uncalled-for move. He emphasized that Balasaheb Thackeray belongs to everyone, and all should have the opportunity to pay tribute. Hegde urged the Uddhav faction to follow Bal Thackeray's ideology if they genuinely sought to honour him.
The Shiv Sena witnessed a split in June of the previous year, initiated by Shinde's rebellion. Since then, both factions have been vying to claim the legacy of Bal Thackeray, affectionately known as 'Hinduhriday Samrat' by supporters.
Doonited Affiliated: Syndicate News Hunt