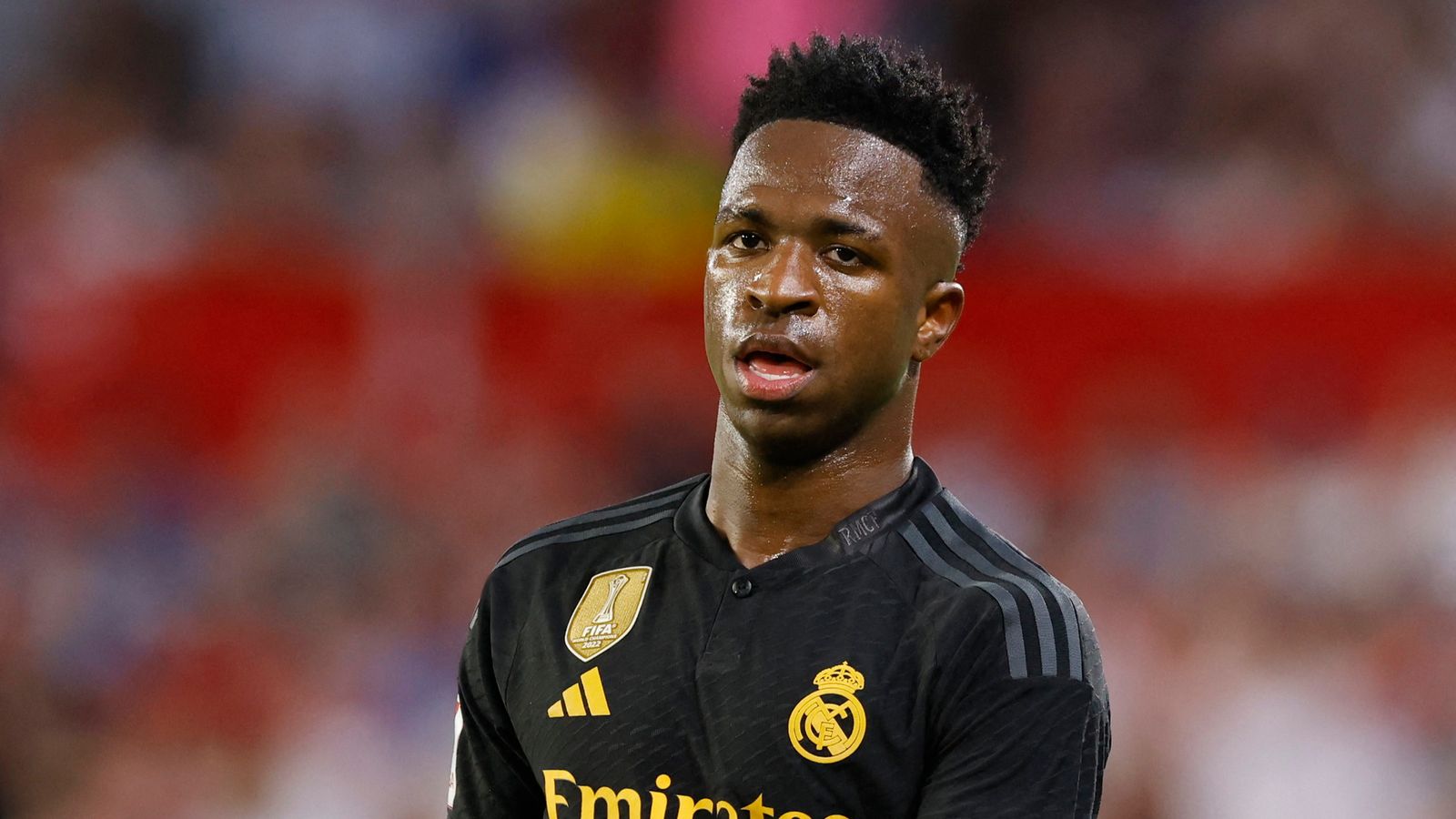 Real Madrid footballer Vinicius Junior has praised Sevilla for its swift actions in ejecting a supporter who allegedly racially abused him during a La Liga match.
The Brazilian winger posted an image on social media of a man making a monkey gesture.
It was "isolated episode number 19 and counting", he said, and called on the Spanish authorities to "do their part and change the legislation once and for all".
Vinicius Jr, 23, congratulated Sevilla for their "quick positioning" in "yet another sad episode for Spanish football".
He added: "Unfortunately, I had access to a video of another racist act in this Saturday's match, this time carried out by a child. I am very sorry that there is no one to educate you."
Sevilla said that after "detecting xenophobic and racist behaviour, a member of the public was identified, ejected from the stadium and handed over to legal authorities".
It added: "The individual will also be subject to the club's vigorous internal disciplinary protocols and have their membership revoked.
"Sevilla FC will work closely with the authorities to ensure that action is taken accordingly."
Read more:
Arrests after effigy of Vinicius Jr hung from bridge
Footballers' fury after Vinicius Jr subjected to racist abuse
In May, Real Madrid lodged a hate crime complaint with Spanish prosecutors after Vinicius was targeted with racist abuse during an away tie against Valencia.
The match was paused after the half-time break as Vinicius Jr pointed out supporters who were taunting him to the referee.
He was racially abused from the stands several times last season.
In his statement on Saturday, Vinicius Jr said the "face of today's racist is plastered on websites as on many other occasions".
He added: "I hope the Spanish authorities do their part and change the legislation once and for all.
"These people must be criminally punished, too. It would be a great first step in preparing for the 2030 World Cup (which Spain is hoping to host, alongside Portugal and Morocco).
"I'm available to help."
Sevilla and Real Madrid drew 1-1, with Vinicius Jr playing for 88 minutes.
Doonited Affiliated: Syndicate News Hunt