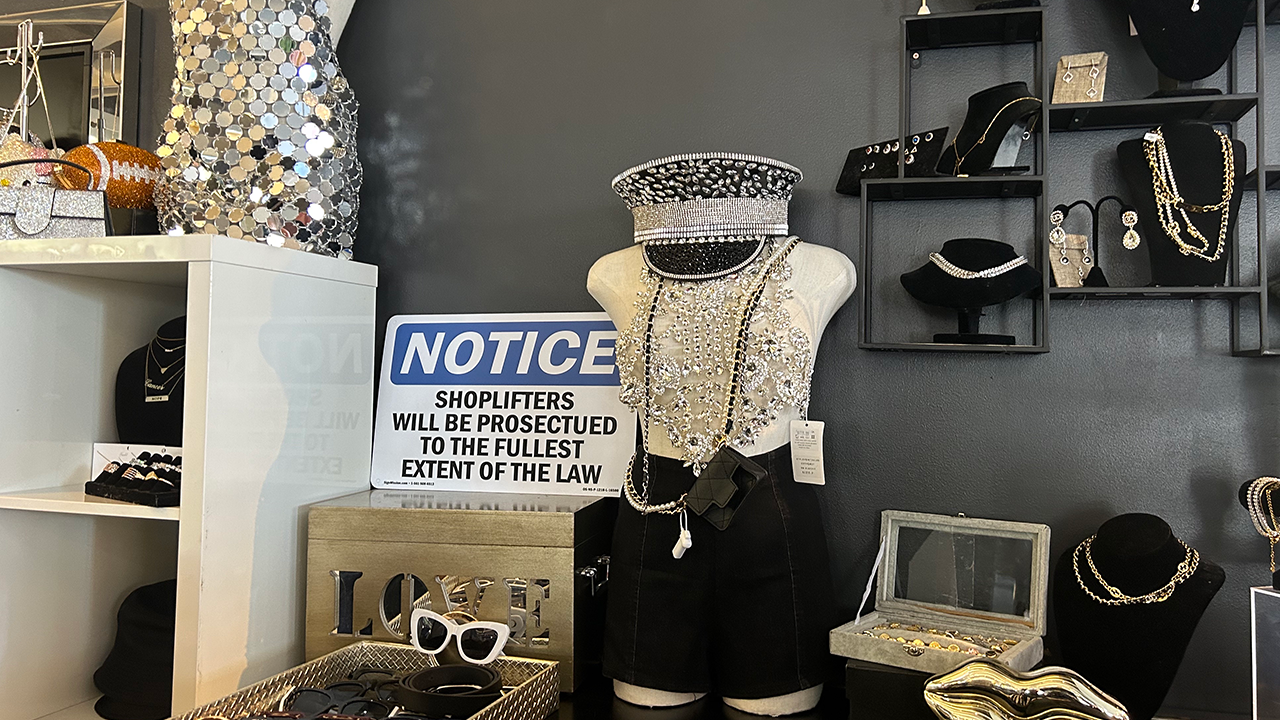 Police in Oregon arrested 11 suspects in a shoplifting sting this week.
Stores across the country lost billions in retail theft last year, according to research by Capitol One Shopping Research.
Local shoplifting is typically accompanied by relatively low-level criminal offenses and not tied to national headlines, but it's a retailer's death by a thousand paper cuts and emblematic of a significant issue plaguing brick-and-mortar retail stores from mom-and-pop shops to giants like Walmart and Target. 
Stores lost an estimated $86.6 billion to retail theft in 2022, and projections indicate that in 2025, the amount may reach $115 billion, according to Capitol One Shopping Research. 
WALMART AND TARGET EXECUTIVES SPEAK OUT ON RETAIL CRIME
Businesses are forced to hide products behind registers or lock them up behind glass to protect their inventory. 
Joe Budano, CEO of anti-theft technology company Indyme, told USA Today that his company is selling 30% more help buttons that can alert an employee that a customer wants an item unlocked, compared to 2019.
DOLLAR TREE TAKING 'VERY DEFENSIVE APPROACH TO SHOPLIFTING, CEO SAYS
"They're locking stuff up like crazy today," Budano said. "Retailers are just throwing the kitchen sink at (the shrink issue) right now."
Rick Dreiling, the CEO of Dollar Tree Inc., said that's the "defensive approach they're taking."
"It goes everything from moving certain SKUs [stock-keeping units] to behind the check stand," Dreiling said during the company's earnings call earlier this week. 
"It has to do with some cases being locked up. And even to the point where we have some stores that can't keep a certain SKU on the shelf just discontinuing the item."
OPINION: THE SHOPLIFTING CRISIS IN A NIGHTMARE. HERE ARE 5 THINGS THIS EX-NYPD INSPECTOR WANTS YOU TO KNOW 
A 2022 report from the Retail Security Survey found $94.5 billion in losses in 2021 because of shrink, which includes shoplifting and damaged products. 
That's up from $90.8 billion in 2020.
"The study found that, similar to the last five years, the average shrink rate in 2021 was 1.4%," according to the study, which is a $94.5 billion loss. 
Organized retail crime, which increased on average by 26.5% in 2021, is the driving force, the study says. 
CLICK HERE TO GET THE FOX NEWS APP
Retailers, on average, saw a 26.5% increase in organized retail crime (ORC).
"Eight in 10 retailers surveyed report that the violence and aggression associated with ORC incidents increased in the past year," the 2022 Retail Security Survey says. 
"The current climate of active assailants and gun violence add to retailers' concerns about being able to keep employees and customers safe."
Doonited Affiliated: Syndicate News Hunt