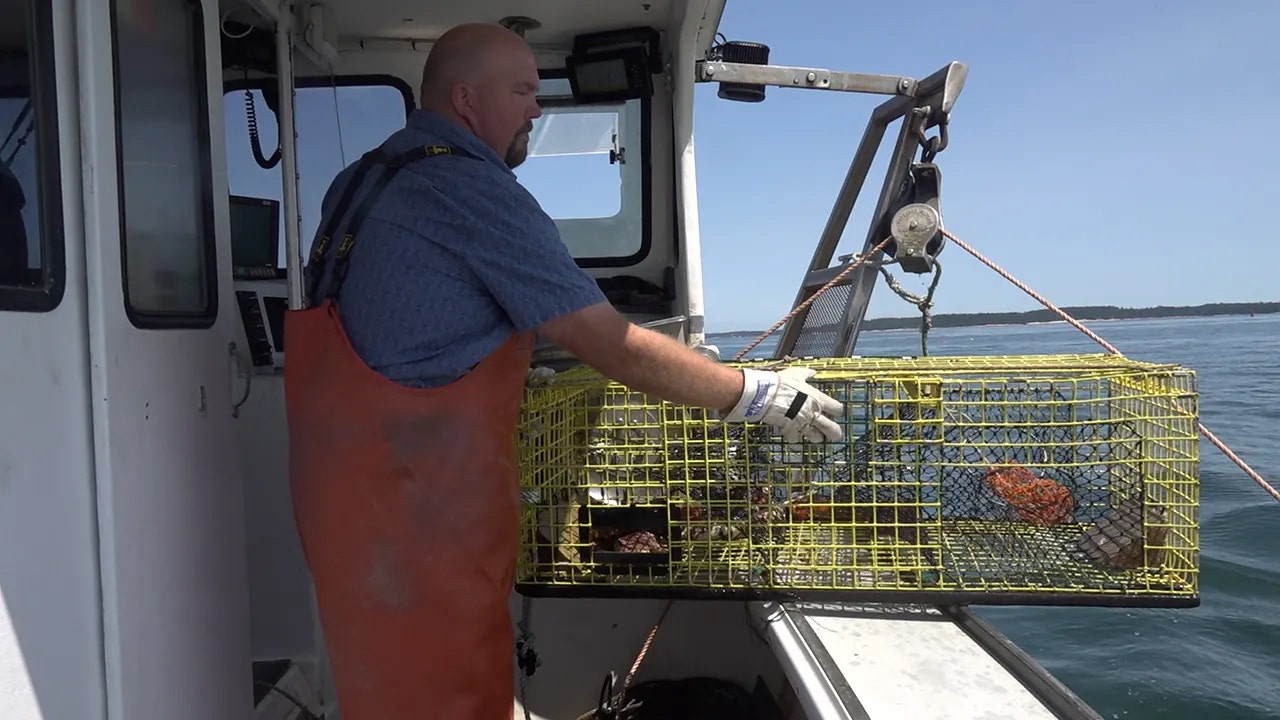 The price of lobster is becoming more expensive as inflation and new regulations impact the cost of the delicacy.
Dwight Staples, who has worked as a lobsterman in Stonington, Maine, for 15 years, said modern-day lobster fishing can be complex, and this season is producing additional challenges.
"Lobsters seem to be migrating more east, and therefore our catch is going down," Staples said.
On top of the smaller catches, he said the price of bait has risen from $30 per tray to around $100 per tray, and fuel is three times more expensive than what it used to cost.
MAINE LOBSTERMEN WARN BIDEN ADMIN IS TRYING TO PUT THEM OUT OF BUSINESS WITH HARSH ECO RULES
"The cost to go fishing and maintain this fishery is really high. So when we catch less, and we don't get the price that we were looking to get, it makes it very hard for us to make ends meet," Staples said, adding that he only makes $5 per pound.
Federal regulations created during the summer of 2021 also affected business after lobsterman were forced to buy equipment to prevent whale entanglements – something they say wasn't an issue. An appeals court overruled those regulations, but they're still in place. 
"The biggest thing is the new regulations, there is only so much they can do, and they keep tacking on and on which drives the price up, and the catch down, it is a supply and demand thing," said Bruce Larson, owner of Southern Maine Lobster Company.
GREEN GROUPS TARGETING BLUE-COLLAR LOBSTERMEN ARE LARGELY FUNDED BY DARK MONEY
From the fisherman, then to a processor, and finally to the grocery store or restaurant, with every hand that touches a lobster, the price goes up.
Julian Klenda, CEO of Maine Lobster Now, said his company, which ships products all over the country, saw a 10% price increase while sales decreased 20%.
Klenda said it was only six months ago that he was selling one pound of lobster meat for about $76, and now it costs almost $85.
"We are always looking for solutions to save money. We try to run promotions or run bulk packs to maximize the cost of freight," he said, adding that customers get a better value if they purchase larger orders.
MAINE LAWMAKERS AIM TO STRIP WHOLE FOODS OF STATE TAX BREAKS OVER LOBSTER BAN
Staples said he believes the cheapest way for consumers to buy lobster is to find a lobsterman and have them ship their product directly to your doorstep.
CLICK HERE TO GET THE FOX NEWS APP
In the meantime, lobstermen hope the market settles down and eases the impact on the wallets of customers and those working in the industry.
"Sometimes we catch just enough to pay for the expense, but we get up and do it the next day in hopes that we're going to have another paycheck the next day," Staples said.
Doonited Affiliated: Syndicate News Hunt