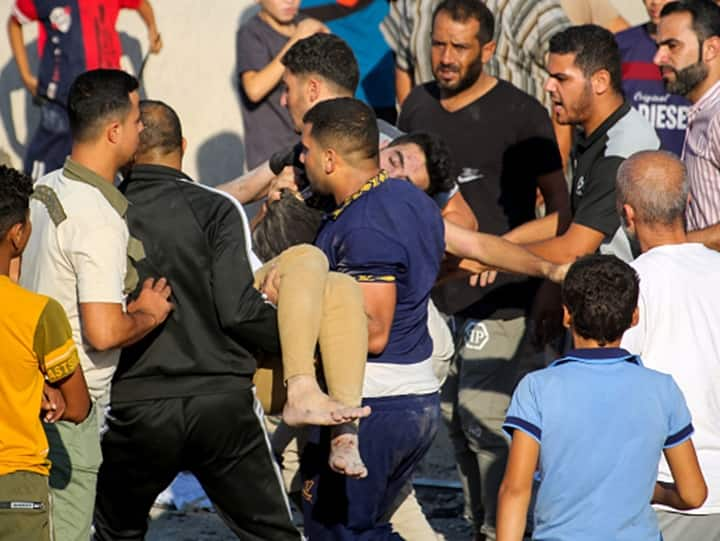 The Gaza Strip faces an escalating humanitarian crisis as water, power, and medical supplies approach exhaustion, and dwindling food provisions strain hundreds of thousands of Palestinians. The crisis unfolds amidst relentless Israeli airstrikes, a response to last week's violent upheaval initiated by Hamas. Hospitals in Gaza are on the brink of collapse due to the impending exhaustion of generator fuel, with just 24 hours remaining, according to the United Nations.
WHO stated that "Gaza is running out of water. With limited water: Public health crisis imminent, compounding desperate situation for civilians. Lives of 3500+ inpatients in 35 hospitals at immediate risk."
Israel's closure of essential supply routes more than a week ago has placed the spotlight on the Rafah crossing, where aid trucks have been waiting for days to gain access, news agency Associated Press reported. The Rafah crossing, the sole connection between Gaza and Egypt, was forced to shut down due to Israeli airstrikes.
Egyptian Foreign Minister Sameh Shoukry stated that Israel has not yet made a decision on granting access via the Rafah crossing.

UNRWA (United Nations Relief and Works Agency for Palestine Refugees in the Near East) Chief Philippe Lazzarini pleaded for an end to the siege, declaring that "Gaza is running out of water, and Gaza is running out of life", AP reported.

Unknown numbers remain in northern Gaza, either unable or unwilling to leave, despite evacuation orders. Approximately 170,000 people were sheltering at UNRWA schools in the north when the evacuation order was issued.

Four hospitals in northern Gaza have ceased operations, while 21 others have been instructed by Israel to evacuate. Doctors have refused, arguing that it would result in the death of critically ill patients and newborns relying on ventilators.

The medical aid group Doctors Without Borders reported a shortage of painkillers and medical personnel treating the wounded in the north, with wounded individuals screaming in pain.

Israel's top domestic security official, Shin Bet Chief Ronan Bar, took responsibility for the recent Hamas attacks that claimed over 1,400 lives. Bar acknowledged the failure to provide sufficient warning to thwart the attacks, CNN reported.

US Secretary of State Antony Blinken met with Israeli Prime Minister Benjamin Netanyahu in Jerusalem, expressing unwavering support for Israel's right to defend itself against Hamas terrorism. He also discussed the coordination with the UN and regional partners to facilitate humanitarian aid and the safe release of hostages held by Hamas.

Blinken's visit comes amid growing concerns of a potential Israeli ground incursion into Gaza.

Ahmed Abdul-Hadi, the representative of Hamas in Lebanon, clarified that the October 7 attack in southern Israel was a decision made by Hamas leadership and not directed by any external party. He warned of potential interventions by allied groups in the event of a ground invasion of Gaza.

The Israeli government ordered the evacuation of 28 villages in northern Israel within two kilometers of the Lebanese border. The plan was approved by Minister of Defense, Yoav Gallant, and will be implemented by local authorities and the Ministry of Interior.

The Israel Defense Forces (IDF) continue to target those responsible for the recent violence through numerous airstrikes, the Prime Minister's Office (PMO) stated.
The ongoing conflict in Gaza remains a deeply concerning humanitarian crisis, with lives at stake and resources dwindling. International efforts continue to seek a peaceful resolution and provide much-needed assistance to the affected population.
Doonited Affiliated: Syndicate News Hunt