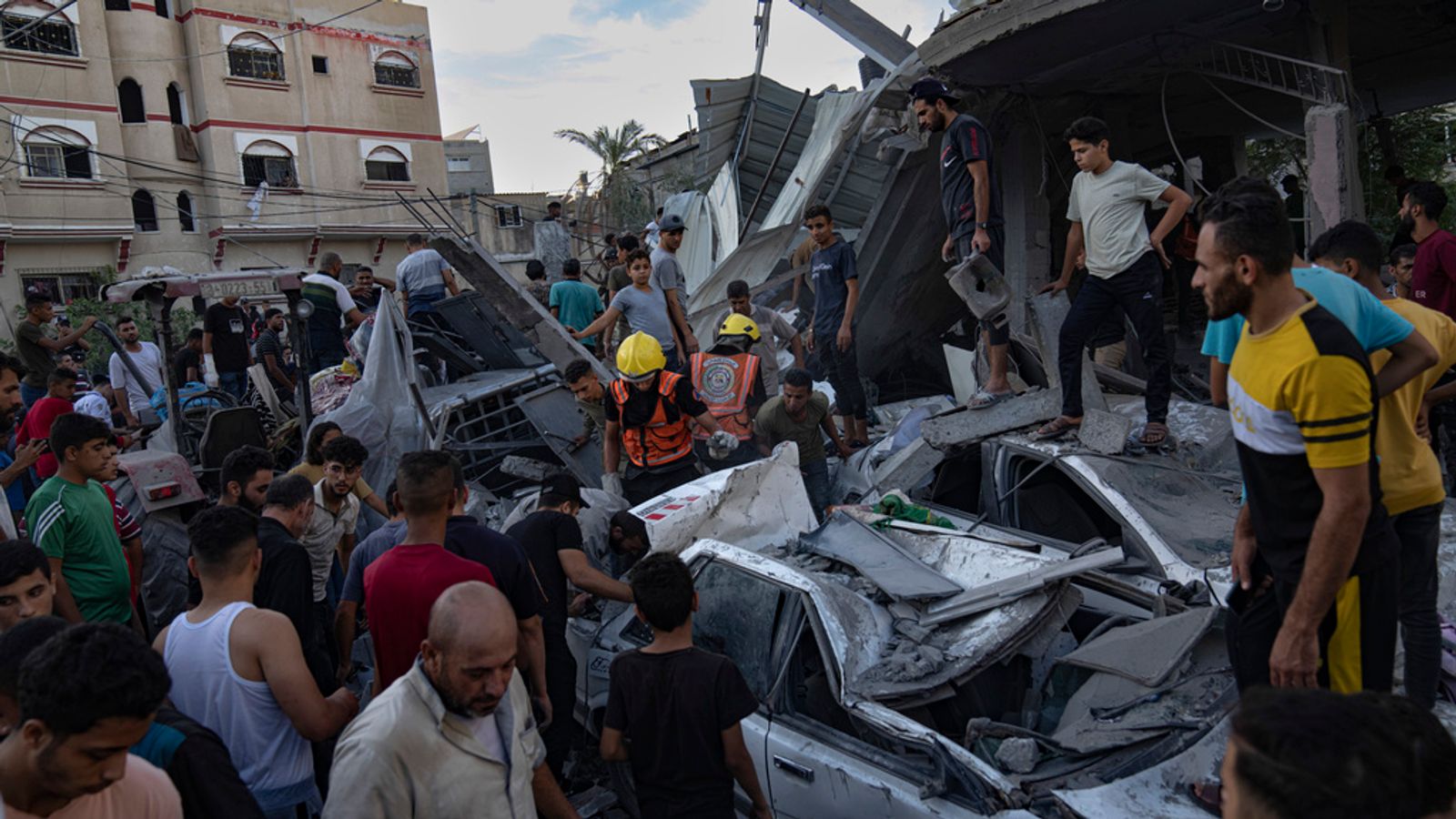 Israel will increase its strikes on Gaza, its military has warned, as airstrikes rained down on south Gaza, an area Israel had said would be safer.
Israel's military spokesman, Rear Admiral Daniel Hagari, said the country planned to step up its air strikes starting on Saturday in preparation for the next stage of the war.
"We will deepen our attacks to minimise the dangers to our forces in the next stages of the war. We are going to increase the attacks, from today," Mr Hagari said, repeating his call for Gaza City residents to head south for their safety.
Follow live: Israel-Gaza latest updates
Israel is retaliating to a brutal attack on 7 October, in which Hamas militants broke out of Gaza, killed hundreds of civilians and took around 200 people hostage.
Earlier on Saturday the UK foreign secretary urged the Israeli military to exercise "discipline" and "restraint", following demands from the United Nations for a ceasefire.
Israel warned those remaining in north Gaza after the evacuation order they could be regarded as partnering with a terrorist organisation.
But a global security expert told Sky News anyone remaining in north Gaza was still entitled to protection under international humanitarian law.
Israeli Prime Minister Benjamin Netanyahu convened his cabinet late on Saturday to discuss the expected ground invasion, Israeli media reported.
Hamas claims Israel 'declined' to receive hostages
Later, Hamas said it had intended to release two further hostages – on top of the two US women released on Friday – for "humanitarian reasons", but that Israel had declined to receive them.
Abu Ubaida, the spokesman for the Izz el-Deen al-Qassam Brigades, said in a brief statement that it informed Qatar
on Friday of Hamas's intention to release the two people.
Israel called the claim it rejected the hostage release "propaganda".
'Catastrophic' situation demands far more aid
The deepening crisis was punctuated by a small glimmer of good news in the form of 20 trucks of desperately needed aid finally being allowed to enter the besieged enclave from Egypt.
Gaza's 2.3 million Palestinians, half of whom have fled their homes, are rationing food and drinking dirty water.
Hospitals say they are running low on medical supplies and fuel for emergency generators amid a territory-wide power blackout.
Hospitals, schools and shelters have all been devastated by airstrikes as Israel attempts to root out Hamas, with expectations of a ground offensive mounting.
Thousands of people have been admitted to the hospital amid the ongoing conflict.

The United Nations and Hamas warned the food, water and medical supplies were just a fraction of what is needed in the strip, which had already been under siege for 16 years before this war broke out.
The head of the UN's World Food Program, Cindy McCain, called the situation "catastrophic".
"We need many, many, many more trucks and a continual flow of aid," she said.
ActionAid said before the crisis around 500 aid trucks would normally cross the border every day.
Hundreds of foreign passport holders at the Rafah crossing with Egypt had hoped to escape the conflict today but were not allowed to leave.
Fear of 'collective punishment' of Gaza civilians mounts
The United Nations secretary-general Antonio Guterres, meanwhile, gave voice to growing international concern over civilians in Gaza, telling a summit in Cairo that Hamas's "reprehensible assault" on Israel two weeks ago "can never justify the collective punishment of the Palestinian people".
UK foreign secretary James Cleverly told the peace summit he had raised the need to protect civilians with Tel Aviv.
He said: "Despite the incredibly difficult circumstances, I have called for discipline and professionalism and restraint from the Israeli military."
His boss Rishi Sunak – who visited Israel, Saudi Arabia and Egypt this week – wrote in the Telegraph the world faced an "acute humanitarian crisis" in Gaza.
Thousands of people have been admitted to the hospital amid the ongoing conflict.

As 100,000 people took to the streets of London in a show of solidarity with Palestine, the PM said the UK supported "absolutely" Israel's right to defend itself against the "murderous enemy".
Israel had a duty to restore the country's security and bring its hostages back following the Hamas attacks on 7 October, he wrote.
But he said he had been clear with Israeli counterpart Benjamin Netanyahu and President Isaac Herzog "this must be done in line with international humanitarian law and taking every possible step to avoid harming civilians".
UN bodies have warned Israel's "complete siege" on Gaza and its evacuation order for those in north Gaza breach international humanitarian law.
They have also said that taking hostages, as done by Hamas, breaks these rules.
Concerns persist that a second front in the war could open up as Israel traded further fire along its northern border with Lebanon's Hezbollah militant group.
Doonited Affiliated: Syndicate News Hunt