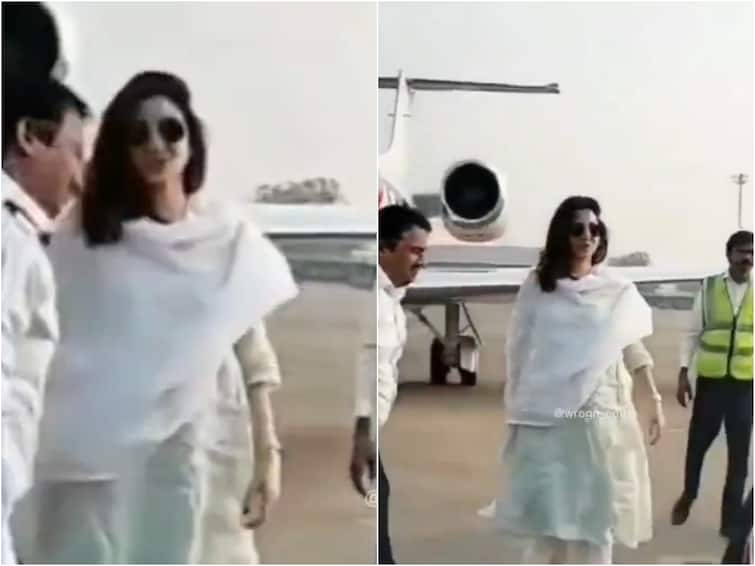 New Delhi: Anushka Sharma has arrived in Ahmedabad to offer her support for Virat Kohli at India's World Cup 2023 final against Australia. The match is scheduled for Sunday. A fan club posted a video of Anushka landing at the airport in Ahmedabad with her daughter Vamika close to her. 
Anushka, who is reportedly expecting, was spotted wearing an ethnic white outfit that covered up her noticeable baby bump. A babysitter who was holding onto Vamika accompanied the actor. The mother-daughter pair kept away from posing for pictures. Vamika's identity was concealed by hiding her face with a heart emoji. 
Check out the video here: 
Anushka Sharma with Vamika at Ahmedabad Airport 😍❤️
(Dm me aake without emoji mt magna)🗿👍🏻#viratkohli #anushkasharma pic.twitter.com/uU7IUUHQR5


— 𝙒𝙧𝙤𝙜𝙣🥂 (@wrogn_edits) November 17, 2023
When India played Pakistan in the same Ahmedabad venue last month, Anushka Sharma was spotted cheering for Virat Kohli. She was spotted cheering on Kohli as India defeated New Zealand in the semi finals last week while seated in the stands. 
Anushka honored Kohli's victory with an emotional post after the century.
"God is the best scriptwriter! Utterly grateful to him for blessing me with your love, and to watch you grow from strength to strength and achieve all that you have and will, being honest to yourself and to the sport always. You are truly God's child," she wrote.
In addition to Anushka, Deepika Padukone, Anil Kapoor, and Ranveer Singh have departed for Ahmedabad to attend the game. Along with celebrities from Bollywood, former cricket players Sachin Tendulkar and Kapil Dev were also seen arriving at the airport for the match. Australia's Deputy Prime Minister Richard Marles and India's Prime Minister Narendra Modi, are reportedly planning to attend the World Cup final.
ALSO READ: IND vs AUS Final Score Live: 'Unbeaten' India On Verge Of Creating History

Doonited Affiliated: Syndicate News Hunt