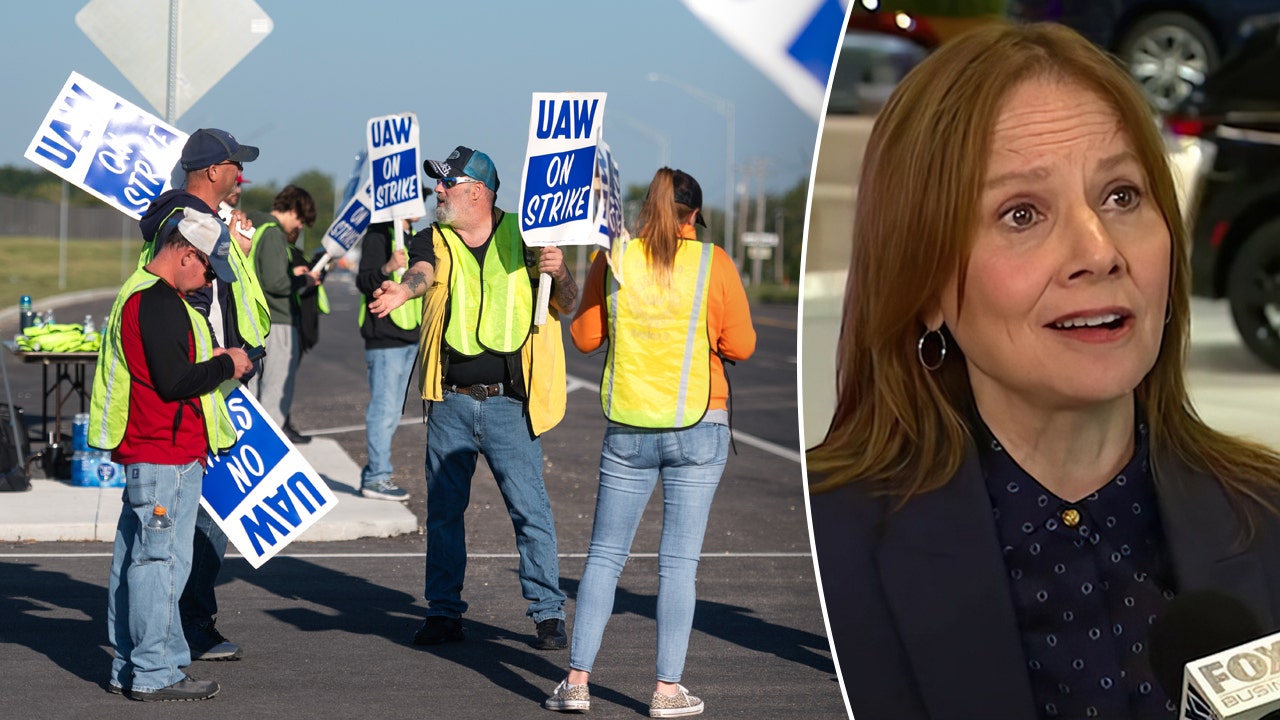 Making face amid union protests against her own company, General Motors CEO Mary Barra explained how the automaker is feeling and dealing with an industry-wide shutdown.
"I'm extremely frustrated and disappointed. And I think the UAW leadership needs to get to the table because we need to get this resolved," Barra told FOX Business' Grady Trimble outside Detroit on Friday. "And what we need to do is problem solve. And I know the team at the GM, both UAW and GM, has been working on it. But there's some key issues. We just need to get together, talk and get [it] done."
The United Auto Workers union went on strike at three plants owned by the Big Three automakers – General Motors, Ford and Stellantis – after the two sides did not reach a new labor deal on Thursday night.
"We got the first real counter-proposal late last night. And so we have had discussions," Barra clarified. "We've been in active discussions, active negotiations, both at the GM top table as well with the international union. But the first real response we got was late last night."
U.A.W. STRIKE COULD SLAM THE U.S. ECONOMY
The workers are striking at a GM plant in Wentzville, Missouri; a Stellantis plant in Toledo, Ohio; and a Ford plant in Wayne, Michigan. Plants that were not called upon to strike will work without a contract, UAW President Shawn Fain said.
The main point of contention between the two sides is higher pay, with Fain saying the union is seeking a more than 40% general pay raise for rank-and-file members over four years.
Full-time assembly plant workers at Ford and GM earn $32.32 an hour, while part-timers currently make about $17 an hour. Full-time employees at Stellantis earn $31.77 an hour, and part-time workers earn close to $16 an hour.
"We have a historic offer on the table, the highest in our 115-year history, 20% gross wage increases over the life of the contract. When you compound those, it's 21% maintaining world-class health care. We're not changing anything there," Barra said.
"There's several other aspects of the contract that are very, very strong," the GM CEO continued. "So I think we have a historic offer on the table and it's a very serious offer and I believe our people really understand the details of it. They're going to support it."
The CEO added that "no one wins" in a union strike of this magnitude. Market experts have estimated that it could cost the U.S. economy billions of dollars.
GET FOX BUSINESS ON THE GO BY CLICKING HERE
"The employee doesn't win. The communities suffer," Barra said. "At General Motors, for every one job we have, it supports six other jobs in the economy. So no one wins when we're on a strike. That's why we're at the table. We need to get the UAW leadership back to the table so we can get this resolved."
Friday afternoon, a UAW striker named Jennifer warned Trimble of a "domino effect," saying she expects strikes to ramp up in the coming days.
FOX Business' Sarah Rumpf-Whitten contributed to this report.
Doonited Affiliated: Syndicate News Hunt