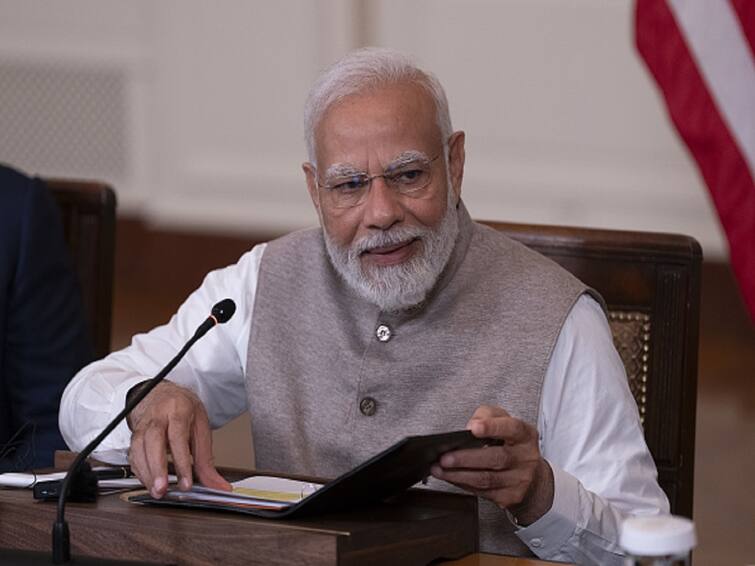 Prime Minister Narendra Modi praised the BRICS alliance's remarkable journey over the last two decades during his address to the open plenary session of the 15th BRICS Summit in Johannesburg on Wednesday (August 23). He emphasised accomplishments such as the establishment of the New Development Bank, assistance to countries in the Global South, and the creation of financial safety nets through contingency reserves.
Watch PM Modi's Full Speech Here: 
Remarking on the significance of Johannesburg, Modi expressed delight at returning to the city with deep historical ties to India, particularly Tolstoy Farm, which Mahatma Gandhi built. 
"…For me and my delegation, returning to a beautiful city like Johannesburg is a source of great joy. This city has long-standing ties to Indians and Indian history. Tolstoy Farm, which was built by Mahatma Gandhi 110 years ago, is located a short distance away. Mahatma Gandhi laid a solid foundation for our unity and harmony by connecting the great ideas of India, Eurasia, and Africa," PM Modi said. 
He also emphasised the role of technology in shaping BRICS societies' future readiness, calling for initiatives such as youth summits, BRICS games, and think tank councils to strengthen people-to-people connections. 
"To make BRICS a future-ready organisation, we must make our respective societies future-ready as well, and technology will play an important role in this," PM said. 
"Youth Summits, BRICS games, and Think Tank Councils, among other initiatives, will strengthen people-to-people ties even further. India proposed Railway Research Network, MSME Cooperation, and Startup Forum initiatives to give the BRICS agenda a new direction… I am pleased that the BRICS have made significant progress in this regard," he added. 
PM Modi's 5-Point Agenda To Boost BRICS Ties: 
PM outlined a comprehensive 5-point agenda to strengthen relationships between member nations. His proposals cover diverse fields from space exploration to conservation and cooperation in various sectors. Here's a breakdown of his suggestions:
Space Exploration Collaborative: Modi suggested establishing the BRICS Research Exploration Consilium to advance space research, monitoring, and global cooperation in this arena.
Education, Skill Development, and Technology Sharing: Emphasising the need for future-ready societies, the Prime Minister highlighted India's achievements in accessible education through the DIKSHA platform, Atal Tinkering labs for innovation, and AI-based language solutions. He offers these platforms for sharing with BRICS nations.
Skill Mapping and Mutual Growth: Modi proposed utilising skill-mapping to identify and leverage each nation's strengths, fostering growth and development through collaborative efforts.
Collective Initiative for Big Cats Conservation: Given the rich diversity of big cat populations in BRICS countries, the Prime Minister suggested collective initiatives under the umbrella of International Big Cats conservation to protect these majestic species.
Traditional Medicine Repository: Acknowledging the unique traditional practices and ecosystems of BRICS nations, Modi proposed joint efforts to develop a repository for traditional medicines.
Doonited Affiliated: Syndicate News Hunt