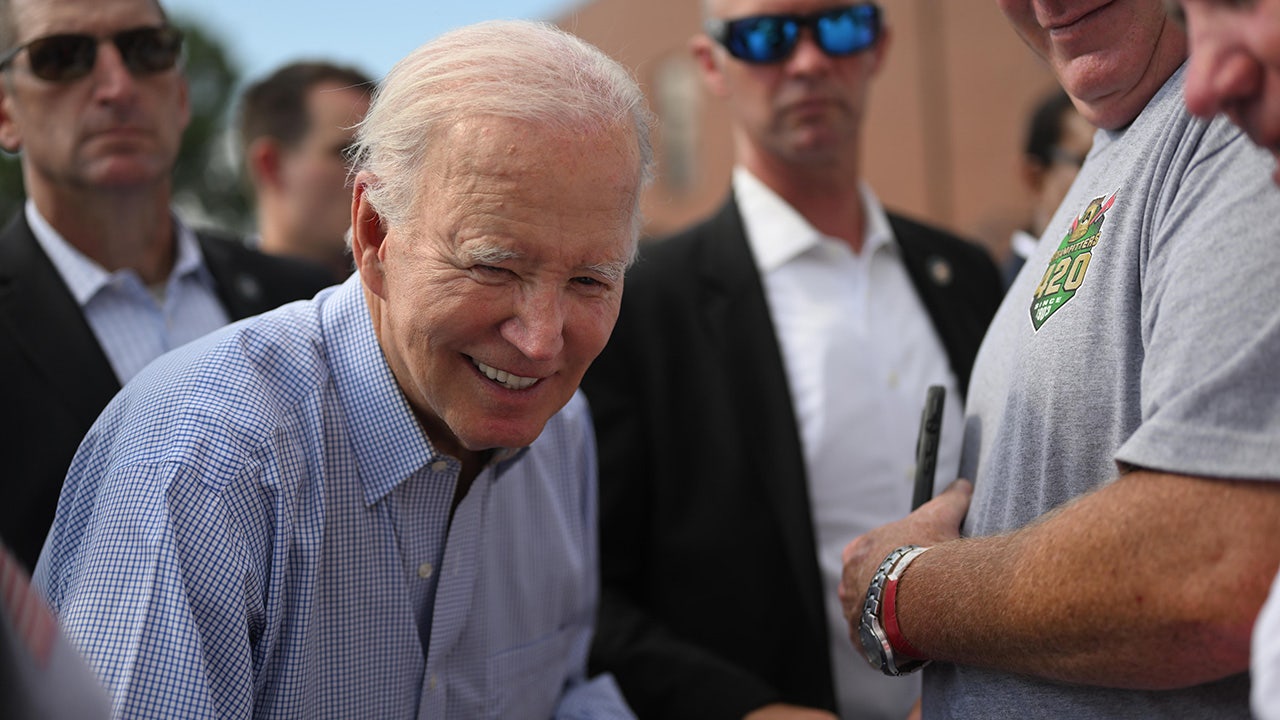 President Biden, during Labor Day remarks Monday, touted that the United States has the lowest inflation rate among major world economies, despite his own Secretary of Commerce admitting just a day earlier that inflation "still exists" and "remains a challenge" for Americans.  
Taking a stage in Philadelphia that was decorated in banners reading "UNION STRONG," the president once again claimed Bidenomics "is working," saying that when the middle class does well, "everyone does well."  
"And guess what? You can still be a millionaire or a billionaire. Except one thing, pay your taxes. Pay your taxes. Bidenomics is a blue-collar blueprint for America. It's for you," Biden said. 
"As I said a thousand times, there is no quit in America. None. All I hear from my friends on the other side, what they say is wrong with America. They keep telling us America is failing. They're wrong. I've got news for them. America has the strongest economy in the world right now today. Lowest inflation rate among any major economy, 13.5 million new jobs," Biden said. "America isn't failing. America is winning, and the rest of the world knows it. That's why our friends and allies are looking to us." 
ECONOMIST SLAMS BIDEN FOR 'UTTERLY APPALLING' CLAIM ABOUT BIDENOMICS: 'A NIGHTMARE'
Biden's remarks come after Commerce Secretary Gina Raimondo reacted to the U.S. Department of Labor's latest report released on Friday showing the unemployment rate rose from 3.5% to 3.8% in August, the highest level since February 2022. The report noted 736,000 people began looking for work last month, the most since January, and not all of them secured employment right away. 
Senate Republican leadership released a report in July showing inflation has soared by 16.6% since Biden took office. Grocery prices have increased by 20%, the report said, citing Bureau of Labor Statistics data, while energy prices have increased 38%. As of July, prices rose by 3.2% on average over the past 12 months. The August Consumer Price Index is not expected to be released until Sept. 13. 
"The reality is that inflation still exists, and it is something that people see on a daily basis when they go to the grocery store, or pay their rent, or pay their mortgage, and we have to know that," Raimondo told CBS's "Face The Nation" in an interview that aired Sunday. "That's still a challenge for folks. That being said, if you look at where we are today, compared to when the president took office, it's an unbelievable story of progress."
Biden also used his speech Monday to take several jabs at former President Trump. 
"We also passed the bipartisan infrastructure law. You can't have the strongest economy in the world with a second-rate infrastructure. Can you believe we used to have the best infrastructure in the world? And then we fell to the number 13 in the world," Biden said. "And guess what? The great real estate builder – last guy here – he didn't build a damn thing." 
BIDEN DOESN'T THINK AUTOWORKERS WILL STRIKE, AS DEADLINE LOOMS
Biden claimed that since he took office, private companies have invested $510 billion in America, referring to South Korea's second-largest conglomerate SK Group's recent $22 billion commitment to new investments in the United States for semiconductors, green energy and bioscience projects. 
"By the way, we invented the semiconductor. We used to have 40% of the market," Biden said, before mentioning SK Group, "When I asked the CEO why, why America? This what he said, number one, 'There's no safer place in the world to have my investment than the United States of America.' And number two — this is the God's truth – 'You have the best workers in the world.'" 
GET FOX BUSINESS ON THE GO BY CLICKING HERE
"We're making things here in America again with American workers, with American products and American factories," Biden added. 
Doonited Affiliated: Syndicate News Hunt