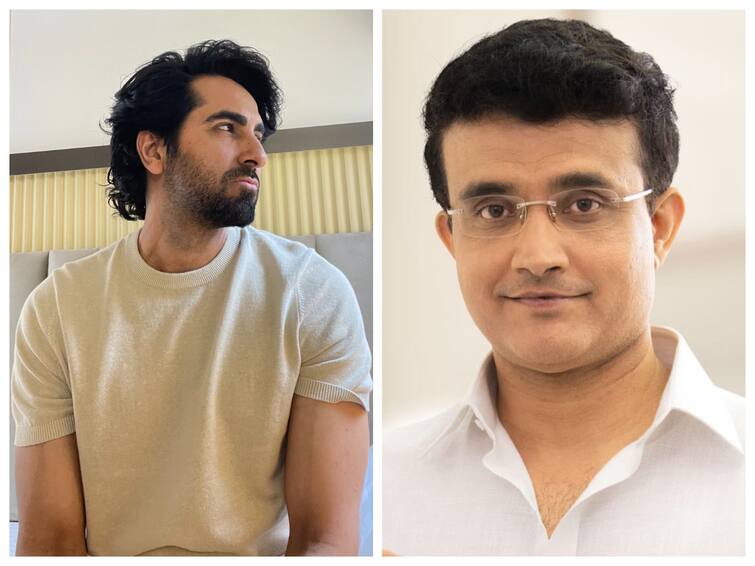 New Delhi: In the last few months, there have been rumours of a biopic being made on Sourav Ganguly, a legendary cricketer and the former president of the Board of Control for Cricket in India (BCCI). It was previously reported that 'Brahmastra' actor Ranbir Kapoor will portray the former Indian Captain in the film, but it seems that Kapoor has now been replaced. Ayushmann Khurrana has reportedly been cast as the lead in a movie on Sourav Ganguly. 
Ayushmann Khurrana added fuel to the persistent speculations of Ranbir Kapoor's potential replacement in Sourav Ganguly's biopic. During the promotion of 'Dream Girl 2' Ayushmann gave a major clue. In an interview with Pinkvilla, the actor was asked the same question and he said, "I'm not saying anything right now. We have to make an official announcement whenever and whatever that happens." Based on his response, it seems that Ayushmann has indeed secured the lead role.
A biopic on Sourav Ganguly's life is in the works. Production on this biopic is set to begin later this year, which is a huge step forward. The former Indian cricket captain hosted two film producers, Ankur Garg and Luv Ranjan, at his home in Kolkata back in May.
​​It was reported in May that "Two directors and producers Ankur Garg and Luv Ranjan met Sourav at his Behala house on Friday. There is a detailed discussion about the film. It is heard that the two directors have recorded various incidents of Sourav Ganguly's life. The script writing has already finished," quotes from a source speaking with IndiaToday. 
According to a credible source close to Sourav Ganguly, his biography will try to shed light on lesser-known elements of the former India captain's life. Like the biography of Mahendra Singh Dhoni, this one will also create an engaging story.
ALSO READ: Ayushmann Khurrana On Choosing Films With Unique Subjects: 'Built My Entire Career Around It, There's No Point Being Vanilla'
Doonited Affiliated: Syndicate News Hunt