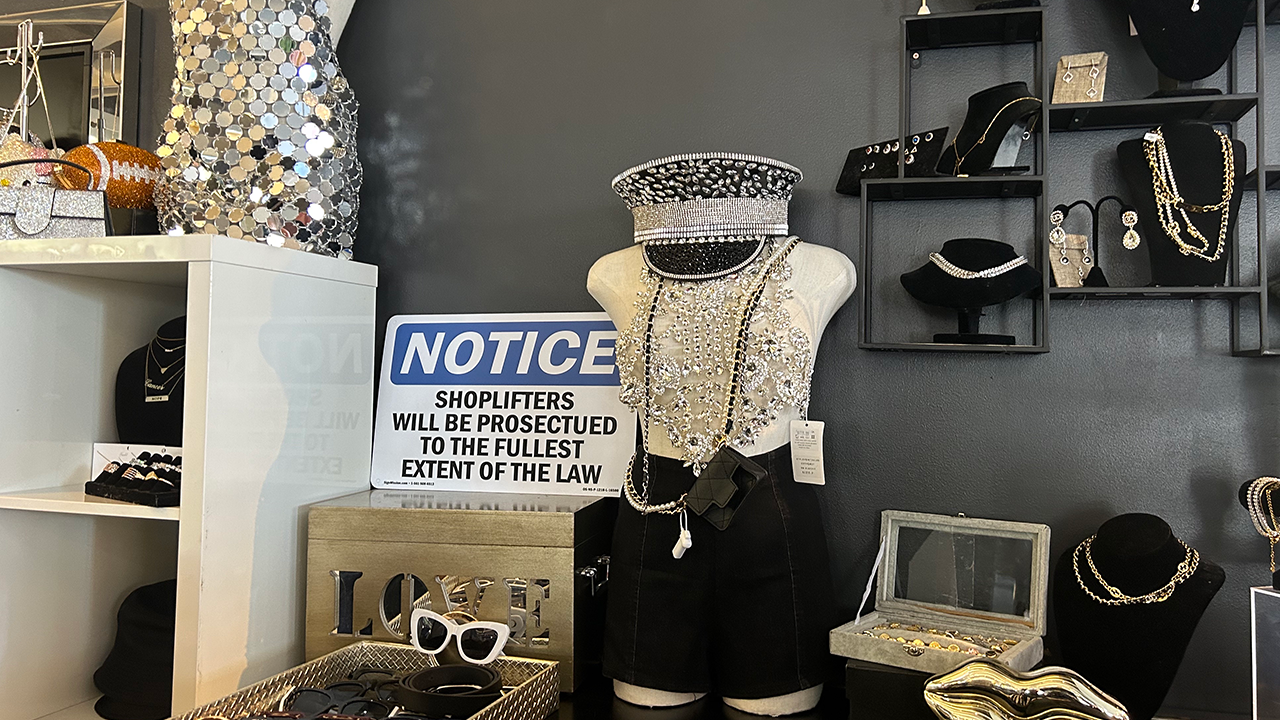 Organized retail crime is a burgeoning issue impacting retailers nationwide. However, the incidents in California are "particularly acute," according to Retail Industry Leaders Association (RILA) President Brian Dodge. 
"As it relates to crime and organized retail crime, California is truly in a league of its own," Dodge told FOX Business. 
Dodge specifically referenced policy decisions California has made in recent years that he said made it easier for criminals to avoid prosecution and recruit boosters, a term for individuals who steal goods and merchandise as part of a bigger operation. 
ORGANIZED RETAIL THEFT NEEDS STRICTER PENALTIES, US CHAMBER OF COMMERCE TELLS CONGRESS
The mob of criminals that ransacked the Nordstrom store in Los Angles "is a natural consequence of those decisions," Dodge continued. 
Footage from Saturday shows between 30 and 50 people rushing into the front entrance of the store and nabbing what police estimate is between $60,000 and $100,000 worth of handbags and clothes. 
While the video is hard to watch, Dodge said it's even harder to imagine what it's like for the store associates working at that time. 
"It's terribly upsetting, terribly frightening and a problem that has been growing exponentially over the course of the last several years," he said. 
Under California law, incidents of shoplifting where the value of what's taken is under $950 are prosecuted as a misdemeanor not a felony. Misdemeanors are "punishable by imprisonment in the county jail not exceeding six months, or by fine not exceeding one thousand dollars ($1,000), or by both."
LOWE'S PIONEERS SYSTEM TO SOLVE ORGANIZED RETAIL CRIME
In order to crack down on this issue, criminals, who are often tied to more nefarious crimes, need to be "prosecuted aggressively," according to Dodge. He added that it's the most important starting point in tackling this issue in California and around the country. 
It's already costing the industry nearly $100 billion nationwide. 
"When you go online to Amazon or eBay and find a great deal, there's a good chance that those items have been part of a theft that have occurred," Dodge said. 
The good news is that progress is being made to combat these operations, particularly when it comes to re-selling the goods online. 
The RILA was a major leader in getting the Integrity, Notification, and Fairness in Online Retail Marketplaces for Consumers Act – or the INFORM Consumers Act – passed last December, according to Dodge. 
The law, which went into effect in June, requires online marketplaces to collect, verify and disclose certain information from third-party sellers that conduct at least 200 transactions resulting in total revenues of $5,000 in a year. 
"It's generally understood that thieves and criminals don't like to give their name and address," Dodge said. "So to the extent that online marketplaces are now following that law and gathering that information, it's making it harder for criminals to find unsuspecting customers and thus bringing down the demand for these kinds of stolen goods." 
GET FOX BUSINESS ON THE GO BY CLICKING HERE
On top of these efforts, more than a dozen state attorneys general have launched organized retail crime task forces to coordinate investigations between retailers and prosecutors. 
Last year, Homeland Security Investigations (HSI) also launched Operation Boiling Point, which is "focused on combating organized theft groups through the targeting of domestic and transnational criminal organizations profiting from organized retail crime."
Doonited Affiliated: Syndicate News Hunt