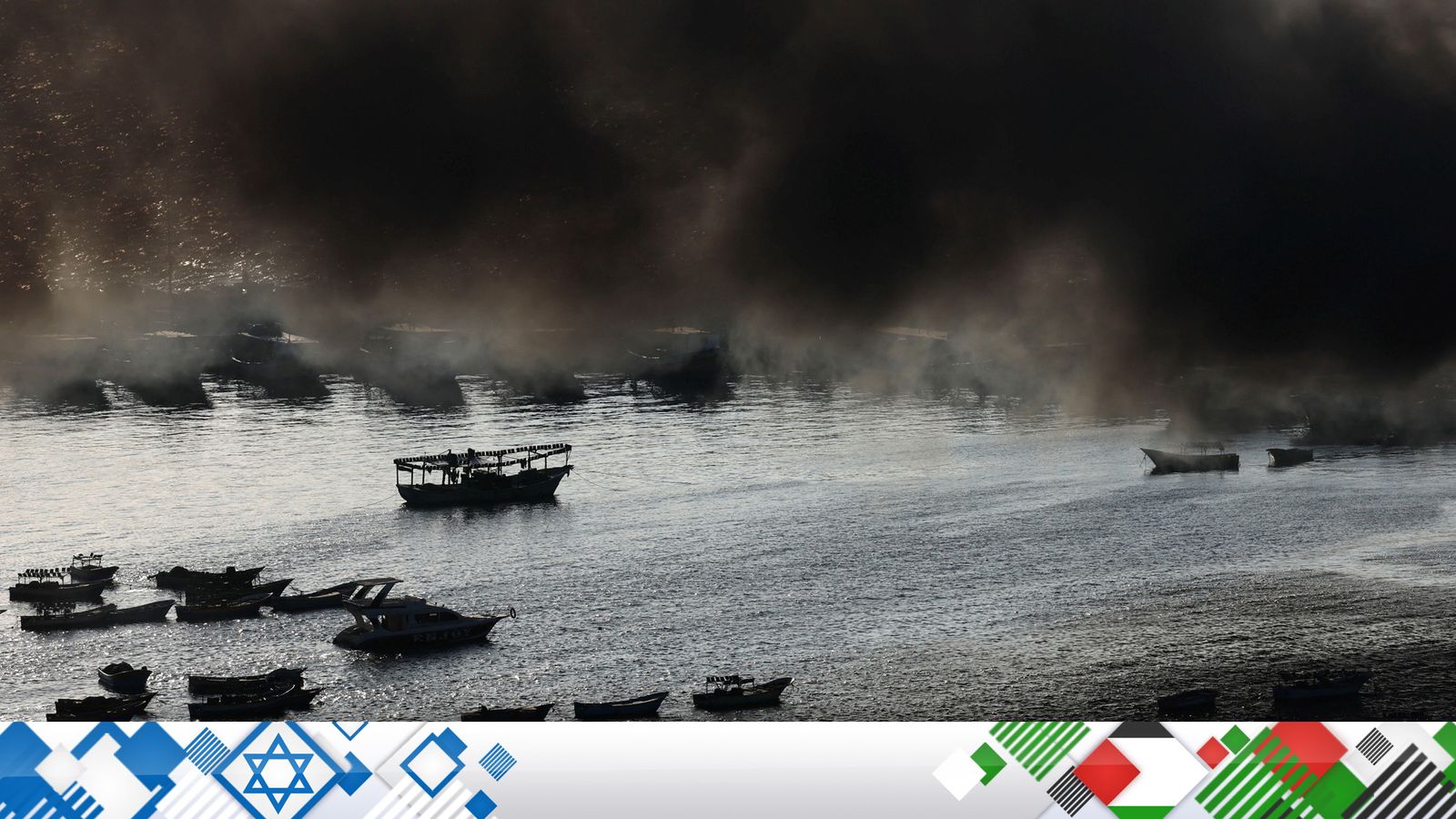 Israel will be looking at all military options at the moment. 
And they don't look very good – not with 130 or so Israeli hostages imprisoned and dispersed all over Gaza.
But after Israel's current bombing campaign – designed to go after Hamas ammunition supplies and command facilities, most of which are disguised in ostensibly civilian buildings – there will be no alternative but for the Israeli Defence Forces to invade the whole Gaza Strip.
Israel vows to 'wipe out' Hamas – live updates
Biden condemns 'bloodthirsty' Hamas

Anything less would not achieve Israeli Prime Minister Benjamin Netanyahu's stated objective of "destroying" the Hamas terrorist group completely. There is no mileage for him in "hurting it" or offering Hamas some lesser response.
After the attacks of Saturday, the Israeli government reacted in the same way the British and American governments reacted to the atrocities of Islamic State in Syria and Iraq – with a legal justification and a political determination to eradicate it completely.
Whether or not that can be achieved through a military campaign remains a moot question, but there certainly will be a full-scale military campaign in the very near future.
Not least, the Israeli government wants to make it clear throughout the region – to Hezbollah, to Palestine Islamic Jihad, to Syria, and especially to Iran – that the country will never be passive in the face of attack. It will never turn the other cheek.
What form might the full-scale response take? The overwhelming military preference will be for Israel to launch a multi-pronged attack into Gaza, probably from the landward and seaward side simultaneously, coupled with an even greater intensity air campaign in the hours preceding zero hour.
Israel's response 'will echo for generations'

Attacking in urban environments is always the most testing and destructive thing for any military force to do. The defenders have buildings and rubble to fight from; there are buildings towering above any tanks, and tunnels and sewers running below them. Cities are the graveyard of main battle tanks and most sorts of heavy equipment.
The initial breakthroughs must be made – dangerously – with infantry, and in this case will be accompanied by drones, electronic sensors, high-tech personal weapons and everything that can give the infantryman some advantage against the group of three or four defenders waiting just around the corner with an RPG (rocket-propelled grenade).
The logic of attacking everywhere at once is to reduce the chances of small groups of defenders moving freely around "safe areas" inside the conurbation – making sure that all areas are constantly "unsafe" for them. This approach is also the best chance the Israelis will have to rescue some of their hostages.
They will not be deterred from attacking by the fact of having so many hostages held in Gaza, though they will be working very hard with their intelligence and special forces to locate as many as possible – and perhaps run rescue missions for their hostages, just ahead of, or in the opening minutes of, a main attack.
Why are Israel targeting civilians?

Israel will assume that several thousand Hamas militants will fight inside Gaza. The Hamas leadership may decide that it would be better not to confront such a superior force directly as it moves in. But large numbers of individuals are highly likely to fight in any case if they are in their own home districts. And Hamas must have known that this was the most likely Israeli response. Insofar as they can, they will be prepared.
No one in Israel pretends that this will be quick, or easy, or anything less than brutal. They didn't assume that in the 1973 war that brought Israel surprisingly close to an annihilating defeat after a surprise attack by Egypt, Libya and Syria. And they won't assume it now.
They know many lives will be lost on all sides, nor does the Israeli government know where all this might lead.
They just know that – after last Saturday – they will have to go there.
Doonited Affiliated: Syndicate News Hunt