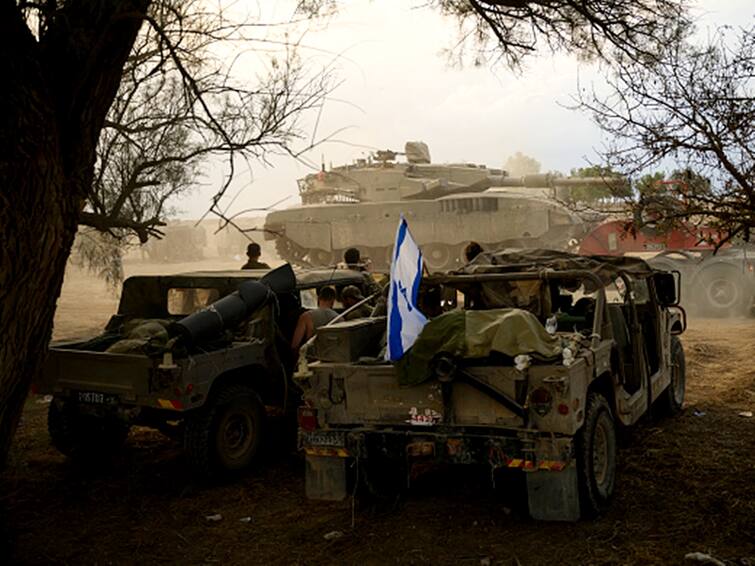 The Israeli military has announced its preparedness for a "coordinated" air, ground, and naval offensive in the Gaza Strip, as reported by the Associated Press. In response to Hamas's shocking attack last week, Prime Minister Benjamin Netanyahu assured troops near the Gaza border that "more is coming." This came as the Israeli military renewed its calls on social media and through leaflets air-dropped in Gaza, urging residents to move south, while Hamas encouraged people to remain in their homes. 
The evacuation directive encompassed an area with approximately 1.1 million residents, about half of the territory's population. The Israeli military granted Palestinians a six-hour window to travel within Gaza without harm along two main routes, with the deadline ending on Saturday afternoon.
ALSO READ | Hezbollah 'Will Cause A Huge Earthquake': Iran Foreign Minister Warns Israel Over Attacks In Gaza
Hamas Accuses Israel Of 'War Crimes', 35,000 Displaced Civilians Seek Refuge At Gaza City's Main Hospital
Netanyahu, clad in a flak jacket, relayed a message in a video released by his office on Saturday. "Are you ready for what is coming? More is coming," Netanyahu, was heard telling soldiers in the video that the premier's office said was filmed earlier Saturday, AFP reported.

The head of the Palestinian militant group Hamas, Ismail Haniyeh, accused Israel of "war crimes" as the Israeli army continued its strikes on Gaza and prepared for a possible ground invasion aimed at eradicating the group. This charge was conveyed in a letter addressed to UN Secretary-General Antonio Guterres and posted on the Hamas website, as per AFP.

On Saturday night, the Israeli military disclosed its preparations for a coordinated offensive in Gaza utiliing air, ground, and naval forces. The exact commencement date for the offensive remains undisclosed, as per AP's report.

The Palestinian population in Gaza struggled to evacuate targeted areas while grappling with a growing scarcity of water and medical supplies in anticipation of a looming ground offensive, AP reported. The United Nations and aid organiations expressed concerns that a rapid exodus could lead to immense human suffering, particularly for hospitalied patients, older adults, and those unable to relocate.

Approximately 35,000 displaced civilians sought refuge at Gaza City's main hospital, crowding the grounds, empty spaces, the building's lobby, and corridors in hopes of safety from the ongoing conflict, according to medical officials. Shifa Hospital, the largest in the entire Gaza Strip, has been inundated with people who lost their homes and had to flee.

"People think this is the only safe space after their homes were destroyed and they were forced to flee," Dr. Medhat Abbas, a Health Ministry official, told AP. "Gaza City is a frightening scene of devastation," he added.

As of Saturday afternoon, the number of Palestinians who remained in north Gaza was unclear, according to Juliette Touma, a spokesperson for the U.N. agency for Palestinian refugees. She noted that hundreds of thousands of people had already fled, with a total of 1 million displaced in just one week.

In a related development, two Lebanese civilians were killed in Israeli shelling of the southern village of Shebaa on Saturday, amid escalating border tensions linked to Israel's conflict with Hamas, the village's mayor told AFP.
Subscribe And Follow ABP Live On Telegram: https://t.me/officialabplive
Doonited Affiliated: Syndicate News Hunt