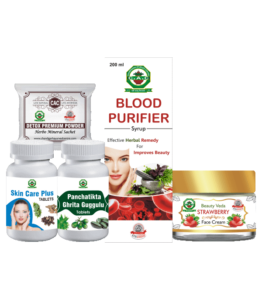 Who does not want to have flawless, glowing and beautiful skin. But in the hectic life, sometimes we do not feel it necessary to pay attention to our skin.
We take care of our skin, but due to stress and pollution, our skin starts becoming lifeless from inside. The effect of which we see on our skin and this is also the reason for having freckles on the face, which looks like light black and brown spots.
Due to which it is inevitable to reduce the beauty of the face. This problem can be due to many reasons. Which can be got rid of by taking the right treatment at the right time. So, that you get spotless and freckle free skin. Black and brown spots (freckles) on the skin of the face spoil your beauty.
These can be got rid of by adopting some easy home remedies.
If you want to get rid of facial freckles soon, then follow these 5 effective home remedies
What are the causes of freckles?
You must have often seen freckles in your own or many people's face and neck.
It is mostly caused by exposure to the sun due to excessive production of melanin in the skin.
The place where there is an excess of melanin in the skin becomes the cause of freckles.
It can also be a sign of dangerous skin cancer. You must consult a doctor to get the right treatment at the right time.
You can lighten the freckles with the help of home remedies. What are these remedies, let us know.
Use Of Apple Cider Vinegar for freckles
The malic acid present in apple vinegar exfoliates the dark skin cells. It helps to lighten the freckles.
You have to mix one spoon of honey in one spoon of apple vinegar and apply it on your face.
Wash off with lukewarm water after sometime.
You can apply it every day.
Lemon Juice Fade Age Spots
Lemon is rich in Vitamin C.
Vitamin C protects the skin from the harmful rays of the sun.
It also prevents the accumulation of melanin in one place.
Apply lemon juice on your face with the help of cotton, and wash after drying.
You can try this process twice a week. 
Use of Aloe Vera for Freckles
Aloe vera is considered very good for the skin.
It protects the skin from getting damaged by the rays of the sun.
It also prevents the accumulation of melanin.
Massage the aloe vera gel on the face for two to three minutes and wash it off after 10 to 15 minutes.
If you want, you can even leave it without washing it.
You can do this process daily.
Use of Yoghurt for Freckles
Yogurt rich in lactic acid reduces the accumulation of melanin in the skin.
This helps in reducing freckles.
Massage by applying two tablespoons of curd to the area where there is a problem of freckles.
Wash it off after 15 to 20 minutes of massage.
You can repeat this process every day.
Use of Honey
Honey contains phenolic and flavonoid compounds that can help reduce tyrosinase activity.
This can help get rid of blemishes by controlling the excess production of melanin in your skin.
How to defend? (Precautions)
With the help of home remedies, you can get help in reducing your freckles. These remedies are also effective.
If you want that you do not have to face the problem of freckles, then you can protect yourself in some special ways. like-
Make a habit of cleansing the skin with a good toner.
Make sure to apply sunscreen before going out in the sun.
Keep your face and rest of the body covered in the sun.
You use an umbrella.
Avoid being in the sun for a long time.
These are some of the remedies, with the help of which you can get rid of the problem of freckles. If you are also facing the problem of freckles, then you must try our given tips. If still you do not get relief, then definitely consult a good skincare specialist.
What is the treatment for Freckles?
You can take the help of light weighted cream, pigment laser to reduce or get rid of the problem of freckles. Keep in mind that this problem depends on your genetics.
CAC SPECIAL SKIN CARE KIT 
Detox Premium Powder:
This is a herbo-mineral preparation that contains ingredients like Parwal Pishti, Giloy satv, Shukta Pishti, Kamdudha Ras, Gandhak Rasayan, etc.
Parwal Pishti: This Pishti reduces inflammation, flaking, itching of the skin. The Pishti is composed of natural coral calcium processed with rose water.
Shukta Pishti: It helps to balance the Pitta dosha in the body. All signs and symptoms related to Psoriasis patients are managed with this article.
Giloy Satv: This satv is prepared from the herb Giloy (Tinospora cordifolia). The anti-inflammatory, antioxidant, and analgesic properties of this herb deal with psoriasis easily.
Kamdudha Ras: This herbal-mineral classical preparation balances Pitta dosha in the body.
Gandhak Rasayana: This herbal preparation is used since ancient times for all types of skin disorders.
Tal Sindoor: It contains ingredients like Shuddh parad, Aloe vera, Gandhak, etc that relieve redness in psoriasis patients.
Akik Pishti: This Pishti reduces all types of Pitta related disorder hence it gives good results in psoriasis.
Recommended Dosage: Take 1 sachet twice daily with plain water.
Blood Purifier Syrup :
It is ayurvedic syrup that consists of various natural ingredients such as Khadir Chall (Acacia catechu), Manjistha (Rubia cordifolia), Neem (Azadirachta indica), Giloy (Tinospora cordifolia), Harad (Terminalia bellirica), Baheda (Terminalia chebula), Amla (Emblica officinalis), etc. As the syrup purifies the blood by removing excess toxins it is very beneficial in maintaining proper circulation and improves the skin naturally.
Recommended Dosage – Take 2 teaspoonful twice daily.
Skin Care Plus tablet:
skin care tablet is a pure ayurvedic formulation. It help to maintain the texture of your skin depending on the type of skin you have. It contains various herbs like Haridra khand, Panchnimb churna, Khadir chahal, Chirayta, Mulethi, Chopchini, Gandhak, Ajmoda that work very effectively on all skin types. Skin care is a blood purifying tablet. It cools and detoxifies the blood, increase blood circulation of the skin. It minimizes the blemishes, lighten sun tan, delay ageing of skin and heal skin problems.
Recommended Dosage: Take 1 tablet twice daily.
Panchatikta Ghrita Guggulu:
Panchatikta Ghrita Guggulu is an ayurvedic preparation mainly used for skin diseases. This tablet contains pure herbal ingredients such as Nimba(Azadirachta indica), Patola(Cucumis acutangulus), Guduchi(Tinospora cordifolia), Vasa(Adhatoda vasica), etc. This tablet promotes detoxification and rejuvenation. Panchatikta Ghrita Guggulu tablet is a natural source of anti – oxidant. It promotes engender vibrant and healthy skin.
Recommended Dosage – Take 1 tablet twice a day with normal water.
Strawberry Face Cream:
Strawberry face cream is pure herbal cream which gives you glowing complexion without any side effects. This face cream Delays ageing, eliminates dead skin cells, cleanses the skin, improves complexion, and even tones your skin. The antioxidants present in strawberries delay the signs of aging like wrinkles and sagging skin. The Vitamin C fights free radicals that cause damage to cells and collagen resulting in fine lines. Vitamin C in strawberries is essential for the production of collagen, which improves the skin's elasticity.
Recommended Dosage – Apply to the affected area twice daily.
Doonited Affiliated: Syndicate News Feed