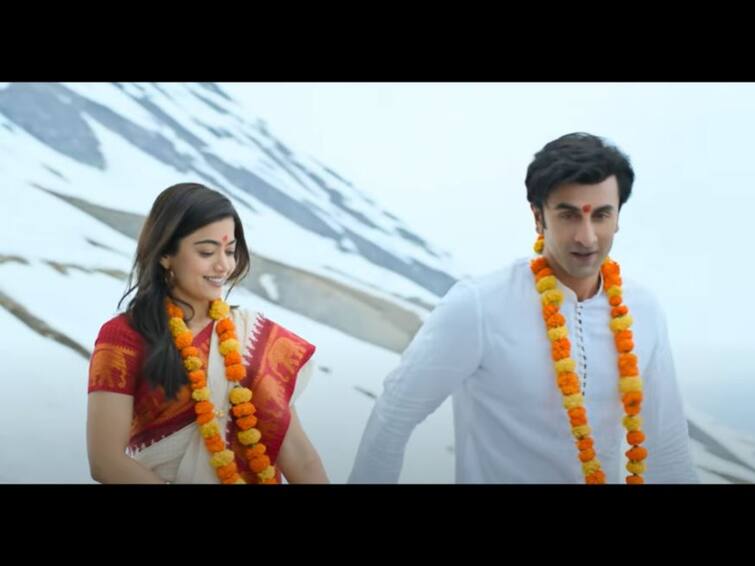 New Delhi: Ranbir Kapoor and Rashmika Mandanna starrer romantic anthem of the year 'Hua Main' from the upcoming film 'Animal' is out now. Sung by Raghav Chaitanya, this soulful melody is penned by the renowned Manoj Muntashir and composed by the maestro of melodies, Pritam. Pritam and Ranbir Kapoor, known for their magical collaborations in the past, continue to weave their spellbinding musical magic with 'Hua Main,' promising audiences an unforgettable musical experience.
The love song not only boasts a hauntingly beautiful melody but also features the scorching chemistry between the film's lead pair, Ranbir Kapoor and Rashmika Mandanna.
The song's poster, which showcased an electrifying and passionate kiss between the two stars, took the internet by storm, building immense anticipation for the track's release. 'Hua Main' keeps up to the hype and promises to be a visual and musical treat, adding an extra layer of intrigue to the much-anticipated film 'Animal.'
Check out the poster here:


Prepare to fall in love all over again as 'Hua Main' serenades its way into your heart and become the romantic anthem of the year.
The teaser revolves around the father-son relationship set in the backdrop of extreme bloodshed in the underworld which leads the protagonist to turn into a psychopath.
A traumatic father-son relationship transforms a handsome looking Ranbir Kapoor into a Punjabi-speaking goon who takes on an army of people and from the looks of it gets killed. The hair-raising teaser also gives a glimpse of Ranbir Kapoor the most lethal avatar possible. The rather-honest take on priviledged familes and their kids and what they turn out to be is what the 'Animal' teaser seems to be suggesting.
ALSO READ: Aamir Khan Says He Would Have Quit Films But His Children Pushed Him To Get Back To Work
Doonited Affiliated: Syndicate News Hunt